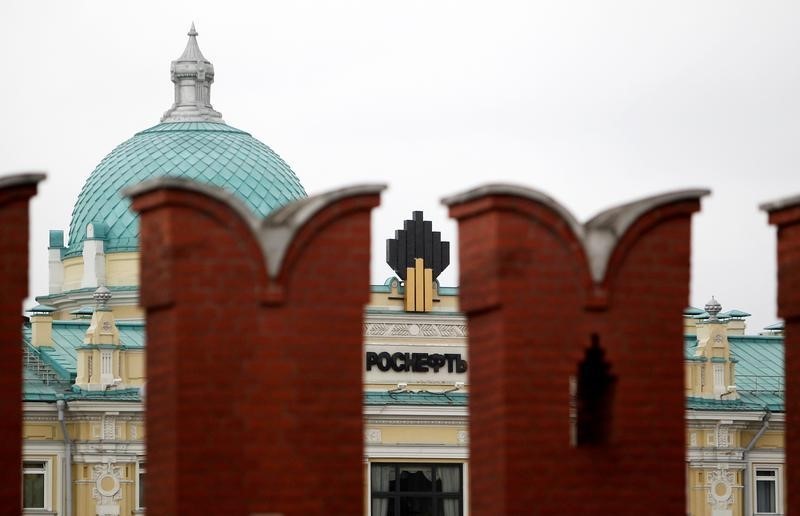 © Reuters. Sanctions on Rosneft Unit Threaten Venezuela's Vital Oil Trade
(Bloomberg) -- U.S. sanctions on Rosneft Trading SA threaten to hit Venezuela's ability to export oil, choking off the main source of cash for Nicolas Maduro's regime and potentially threatening supplies to Asia, it's dominant market.
Rosneft Trading, the main exporter of Venezuelan crude, was targeted by the U.S. for helping to sell the commodity that bankrolls Maduro. The Swiss-incorporated unit of Russia's top oil producer accounted for about half of the Latin American country's 874,649 barrels a day of exports in January, according to shipping reports and ship-tracking data compiled by Bloomberg. The bulk of deliveries last year went to buyers in India and China.
"With sanctions, refiners will be more reluctant to buy Venezuelan oil and shipowners might not be willing to do business with Rosneft Trading," said Fernando Ferreira, a director of geopolitical risk at Rapidan Energy. Venezuelan oil production may fall to around 600,000 barrels a day by the end of the year, from 850,000 in January, he said.
The sanctions imposed on Rosneft Trading -- the toughest in the U.S. Treasury's arsenal -- make it effectively untouchable to international companies, including shipowners, insurers and banks. In September, global tanker rates surged after a unit of China's biggest shipping company were targeted by sanctions for violating restrictions on handling and transacting Iranian petroleum. The sanctions against COSCO's Dalian unit were removed last month.
"Good luck getting shipping insurance, good luck getting financing," said Brian O'Toole, a senior fellow at the Atlantic Council and who previously worked in the Treasury Department's sanctions unit. "For Rosneft as a whole there shouldn't be too much interruption. Rosneft Trading SA I think is largely kaput."
India, the biggest destination for Venezuela's oil exports, took about 39% of all shipments last year, according to data compiled by Bloomberg. Reliance Industries Ltd. and Nayara Energy Ltd., the main Indian buyers, weren't immediately able to comment on Wednesday.
Meanwhile, sanctions on Rosneft Trading will directly hit its business of bringing Venezuelan crude to China, the world's biggest overall importer, where it's mainly used by private refiners to produce bitumen, according to four traders in Asia with knowledge of the trade. While other key Russian crude grades such as ESPO Blend and Urals are sold by different Rosneft units, and therefore not blocked by sanctions, it's possible banks and insurers will become more cautious supporting such deals as they determine affiliations between Rosneft entities, they said.
The potential loss of Venezuelan shipments because of the sanctions helped push oil prices higher on Wednesday. Brent crude, the international benchmark, rose as much as 1.3% to $58.41 a barrel, set for the longest run of gains in more than a year.
"This is a measure against the Venezuelan people and PDVSA workers, and against our ability to produce and sell more oil to have bigger earnings," Jorge Arreaza, Venezuela's Foreign Minister, said in a Caracas government rally on Tuesday.
Rosneft and Petroleos de Venezuela SA are long-time partners. In 2010, the parent Rosneft PJSC, controlled by the Russian government, bought PDVSA's stake in a group of German refineries. The company is also a partner in oil ventures in Venezuela and loaned $6.5 billion to PDVSA in exchange for payment in oil.
"Every layer of cost, of difficulty that this adds, means less cash flow for PDVSA," said Francisco Monaldi, a lecturer in energy economics at Rice University's Baker Institute for Public Policy, and an expert on Venezuela's oil industry. He estimated Rosneft Trading is making more than $1 billion a year on the Venezuela oil trade, because PDVSA has to sell its oil at a steep discount.
"By sanctioning a Russian company, I think the clear message is for the Russians to sit at the negotiating table," he said. "I wonder if this is an incentive enough for the Russians to have a more constructive role for some kind of negotiated transition. It might not be relevant enough."
(Updates with background on India and China imports from sixth paragraph)
Original Article