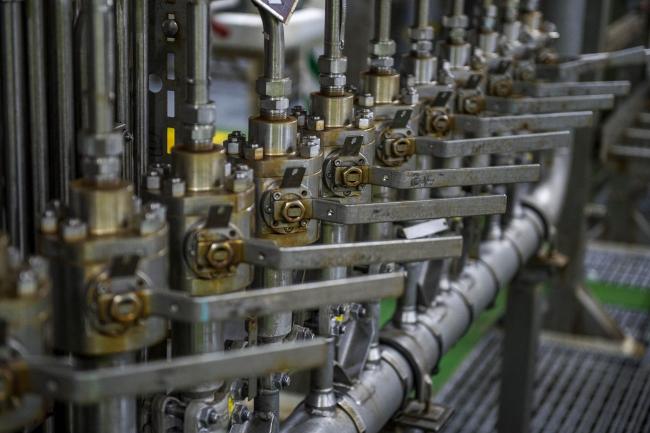 (Bloomberg) -- Oil posted the biggest gain in almost six weeks as signs that the spread of Asia's coronavirus may be slowing boosted investor confidence that crude's sell-off has peaked.
Futures in New York climbed 2.5% on data from China that showed a drop in suspected coronavirus infections. The positive sentiment was largely undeterred by a government report showing U.S. crude stockpiles posted the largest build since November.
"Markets are pricing in that we may have hit peak coronavirus fear," said Daniel Ghali, a commodities strategist at TD Securities. "Investors that were bearish are thinking they want to start to take their foot off the pedal."
Prices have also drawn some support from signals that OPEC and its partners may intervene to shore up the market. The coalition slashed its estimate for demand growth in the first quarter by 440,000 barrels a day, as the coronavirus hits fuel consumption in China. In a meeting with Energy Minister Alexander Novak, Russia's key oil producers voiced support for the idea of extending OPEC+ output cuts into the second quarter, but made no final decision.
Saudi Arabia has been the strongest advocate for production cuts of an additional 600,000 barrels a day. Russia has remained noncommittal, saying more time was needed to study the proposal.
The Energy Information Administration reported that nationwide crude inventories rose 7.46 million barrels last week, more than double the 3.2 million-barrel increase forecast by analysts in a Bloomberg survey. The report also showed a surprise gasoline draw of 95,000 barrels.
Gasoline futures surged 4.4%, the biggest rise increase since September, after a fire broke out overnight at Exxon Mobil Corp (NYSE:XOM).'s Baton Rouge oil refinery in Louisiana, halting production at the fifth-biggest fuel-making plant in the U.S.
West Texas Intermediate crude for March delivery gained $1.23 to settle at $51.17 a barrel on the New York Mercantile Exchange.
Brent for April settlement climbed 3.3% to settle at $55.79 a barrel on the ICE (NYSE:ICE) Futures Europe exchange in London, putting its premium over WTI at $4.38.
The market's structure also showed signs of strengthening with the discount on front-month Brent contracts versus the second month narrowing to 12 cents, suggesting fears of a supply glut may be easing.
Still, discounts have held for Brent contracts for the majority of 2020, a pattern known as contango that typically reflects oversupply.
"We've seen a lift because in the very near term, it's all about the virus," says Judith Dwarkin, chief economist at RS Energy Group. "Until we're out of the woods the market will be laser focused on slowing demand growth and if OPEC waits to implement cuts until April, it may be too late to deal with the bulge in supply."
Original Article