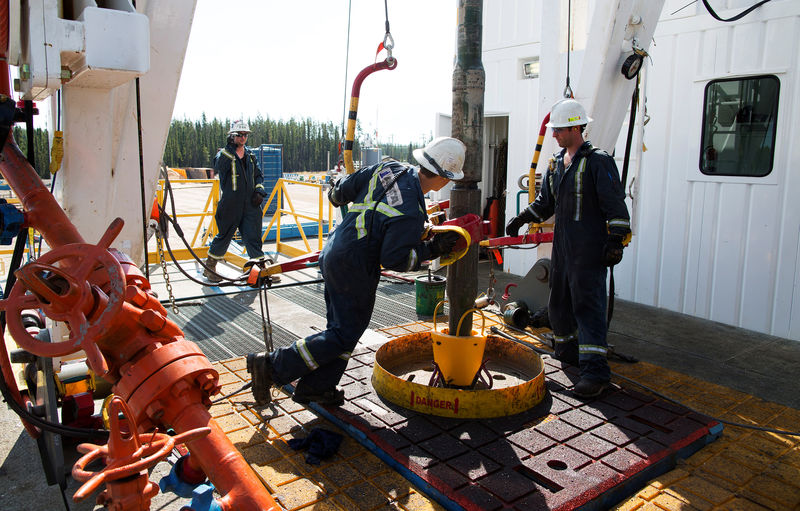 © Reuters.
By Barani Krishnan
Investing.com – Oil prices jumped on Wednesday, rising a second day in a row in a previously battered market, on speculation that China was gaining traction on its fight against Covid-19 and that Russia will overcome initial reservations to work on deeper output cuts with OPEC.
Benchmark crude futures in London and New York rallied about 3% or more, ignoring a weekly U.S. crude build that was more than double expectations. The market also brushed aside any worry from OPEC's admission that demand for its own oil will fall by 200,000 barrels per day this year because of the virus.
Brent, the London-traded global benchmark for crude, settled up $1.78, or 3.3%, at $55.92 per barrel.
New York-traded West Texas Intermediate, U.S. crude benchmark, settled up $1.23, or 2.5%, at $51.17.
"The market's up on OPEC's suggestion that there will probably be more curbs on its supply despite Russia's hesitation to agree to deeper cuts," said Tariq Zahir, managing member at the oil-focused Tyche Capital Advisors in New York. "Virus fears out of China also seem to have subsided somewhat with the slower pace of infections reported, though I feel that isn't the full story on that."
China said on Wednesday that the number of new Covid-19 cases confirmed inside the country had declined for two days in a row. As of Wednesday, China had 1,114 deaths from the disease. The only other fatality has been in the Philippines.
While the declining infection rate in China could indicate that draconian control measures implemented by the country are helping, the chief scientist for the World Health Organization has warned it's still possible that many cases are lurking around the world undetected, so more localized outbreaks could emerge. If that happens, what is still considered a Chinese epidemic could grow into a global pandemic.
OPEC, in its monthly report, said 2020 demand for its crude will average 29.3 million barrels per day, 200,000 bpd less than previously thought. OPEC pumped below that rate in January anyway, suggesting a 2020 supply deficit.
The report could bolster the cartel's case that some 600,000 bpd be taken off the market immediately to support prices, which earlier this week was down 22% from the January peak of above $75 for Brent and $65 for WTI — a percentage drop that technically defines a bear market.
Yet OPEC's success on the 600,000 bpd cut will hinge on cooperation from Russia, the world's second-largest oil producer, which has cooperated with the cartel on supply rationing for more than three years as an ally, not a member. U.S. oil drillers who collectively pump more crude than any other country cannot be a part of any OPEC cuts.
While OPEC predicted a huge slump in demand for its oil, the U.S. Energy Information Administration reported a big weekly build in domestic crude inventories.
Crude stockpiles jumped by 7.5 million barrels for the week ended Feb. 7, compared with expectations from analysts for an increase of 3 million barrels.
Gasoline stockpiles fell by 95,000 barrels, versus an expectation for a rise of 550,000 barrels, the EIA said.
Distillates inventories slid by 2 million barrels, compared with forecasts for a decline of 560,000.
Original Article