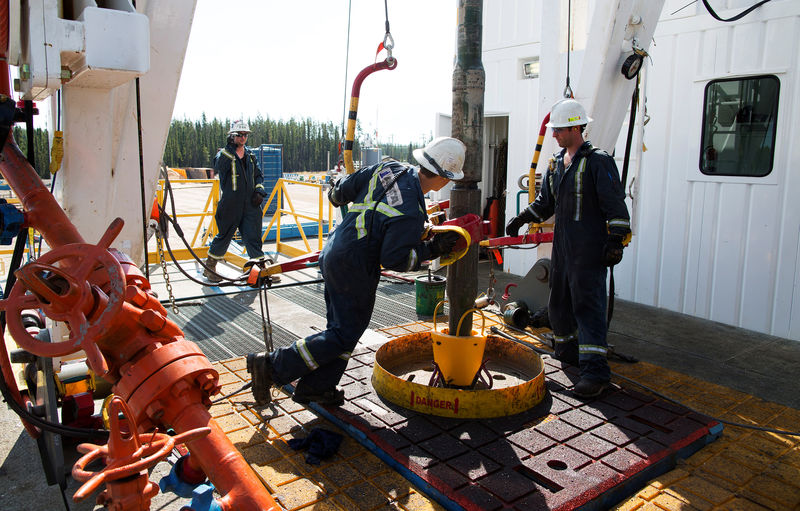 © Reuters.
By Barani Krishnan
Investing.com - After tumbling into a bear market just on Tuesday with no apparent redemption in sight, crude prices jumped as much as 4% in the latest session on hopes that vaccine development for the coronavirus could quickly bring the epidemic under control in China and restore oil demand in the world's largest buyer.
Data showing a larger-than-expected weekly build in U.S. crude stockpiles also had little negative impact on leading oil benchmarks, which returned to above key support levels, with Brent trading higher than $55 per barrel and U.S. crude at well above $50.
Also largely forgotten seemed to be a technical meeting in Vienna held by the OPEC+ group of 23 oil-producing countries, who are trying to agree on more production cuts to staunch this week's bust in oil prices.
"As financial markets are anticipatory, one can see how favorable news in relation to potential medical solutions, or indications that we have reached a turning point," BNP Paribas (PA:BNPP) analyst Harry Tchilinguirian told the Reuters Global Oil Forum, referring to vaccine development efforts for the coronavirus.
Brent, the London-traded benchmark for crude oil, settled up $1.32, or 2.4%, at $55.77 per barrel. It hit a 13-month low of $53.87 on Tuesday.
New York-traded West Texas Intermediate, U.S. crude benchmark, closed up $1.14, or 2.3%, at $50.75. WTI hit a 13-month low of $49.52 in the previous session.
Despite the rebound, both benchmarks were down more than 20% below their January peaks, effectively staying in a bear market for oil.
Brent was down 22% from its January peak of $71.75 a barrel, while its U.S. peer was at a 22% discount to last month's high of $65.65.
Year to date, both were down about 16%.
China's Changjiang Daily newspaper reported on Tuesday that a team of researchers led by Zhejiang University Professor Li Lanjuan had found that drugs Abidol and Darunavir can inhibit the virus.
Separately, Sky News reported that a British scientist has made a significant breakthrough in the race for a vaccine by reducing part of the normal development time from two to three years to only 14 days.
Earlier on Wednesday, the U.S. Energy Information Administration reported that crude stockpiles in the country rose by 3.35 million barrels last week, almost offsetting last week's 3.54 million drop. Analysts had called for a rise of 2.83 million barrels.
Original Article