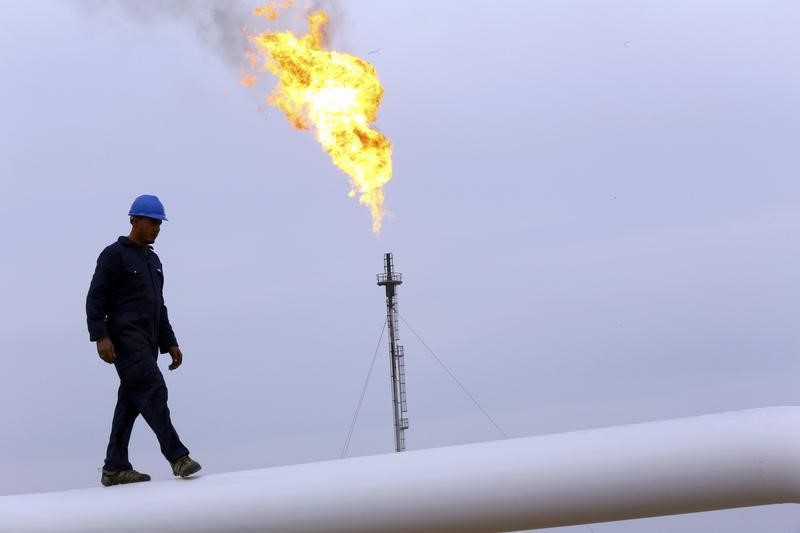 © Reuters.
By Barani Krishnan
Investing.com - Oil prices fell Friday despite posting a weekly gain as the coronavirus contagion ticked higher and the OPEC-Russia production pact that had supported the market the past four years appeared to be coming to an end.
West Texas Intermediate, the U.S. crude benchmark, settled down 50 cents, or 1%, at $53.38 per barrel. It hit a one-month high of $54.63 in the previous session and ended the week up 2.6%.
Brent, the global benchmark for crude, settled down 81 cents, or 1.4%, at $58.50 per barrel. Brent hit a three-week high of $59.99 on Thursday and finished the week up 2.1%.
Beijing, which already had a death toll of more than 2,000 and more than 45,000 infections from Covid-19, reported 118 new deaths and 1,109 new cases on Friday. South Korea reported 100 new infections, doubling its cases. In Japan, more than 80 people tested positive for the virus.
Factory activity in Japan also registered its steepest contraction in seven years in February, hurt by fallout from the outbreak.
Until Friday, oil prices had risen without a break for more than a week, but the rally was threatened now by the prospect of a falling out between the Saudi-led OPEC and Moscow, which represents the interests of Russia's state and independent oil producers.
The two sides have collaborated since December 2016 in an effort to balance global oil supply amid a surge of crude from U.S. shale producers.
But at an emergency meeting earlier in February, Russia rejected a Saudi push to deepen the alliance's existing oil production curbs by 600,000 barrels a day.
The Wall Street Journal reported on Friday that the Saudi kingdom, Kuwait and the United Arab Emirates — which collectively represent over half of OPEC's production capacity — have decided to go it alone without Russia on the cuts. They are holding talks this week to discuss a possible joint output cut of as much as 300,000 bpd.
Separately, finance leaders from the Group of 20 major economies are due to meet in Saudi Arabia at the weekend to discuss risks to the global economy after new Asian economic and health data kept investors on guard.
Original Article