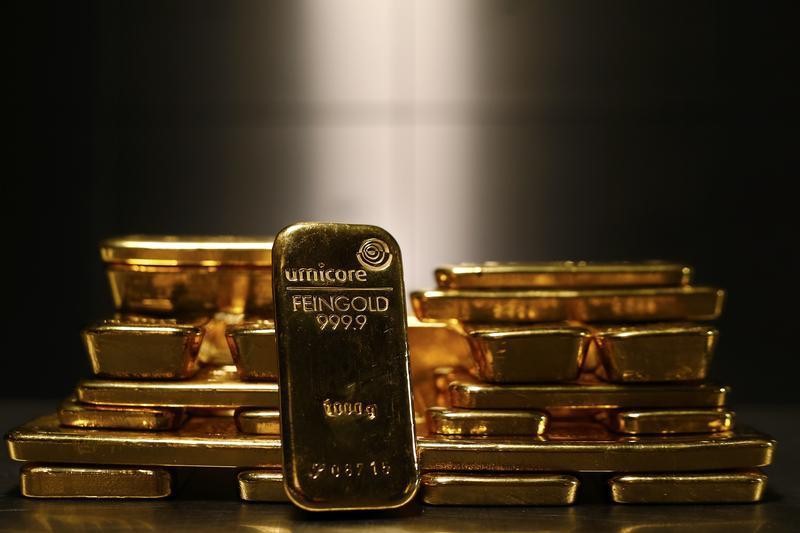 © Reuters.
By Barani Krishnan
Investing.com - Gold eked out a gain Wednesday to end up for the fifth time in six sessions. But the market's upside is being increasingly challenged by a lack of big buy factors.
Gold futures for April delivery on New York's COMEX settled up $1.50, or 0.1%, at $1,571.60 per ounce.
Spot gold, which tracks live trades in bullion, was, however, down $1.30, or 0.1%, at $1,566.12 by 2:38 PM ET (19:48 GMT).
"Between all the significant incidents from potential war with Iraq and presidential impeachment hearings, to the out-break of the coronavirus, this market has been inflated and deflated by headlines and still not managed to pick a clear direction for the short-to-medium term," said Eric Scoles, commodities strategist at RJO Futures in Chicago.
"There is a heavy net long position by gold traders which has limited the upward price reaction and creating a risk of washout for longs but there are also too many potential catalysts for many to be willing to risk a short position in gold."
Scare over the coronavirus, now known as Covid-19, initially sent gold near January's seven-year highs above $1,600 an ounce. But in recent weeks, the yellow metal's status as a preferred hedge to the virus has dulled somewhat.
China said on Wednesday that the number of new coronavirus cases confirmed inside the country had declined for two days in a row. As of Wednesday, China had 1,114 deaths from the disease. The only other fatality has been in the Philippines.
While the declining infection rate in China could indicate that draconian control measures implemented by the country are helping, the chief scientist for the World Health Organization has warned it's still possible that many cases are lurking around the world undetected, so more localized outbreaks could emerge. If that happens, what is still considered a Chinese epidemic could grow into a global pandemic.
"Investors may be bargain hunting in gold soon if we see lower prices," said George Gero, precious metals analyst at RBC Wealth Management in New York.
Original Article