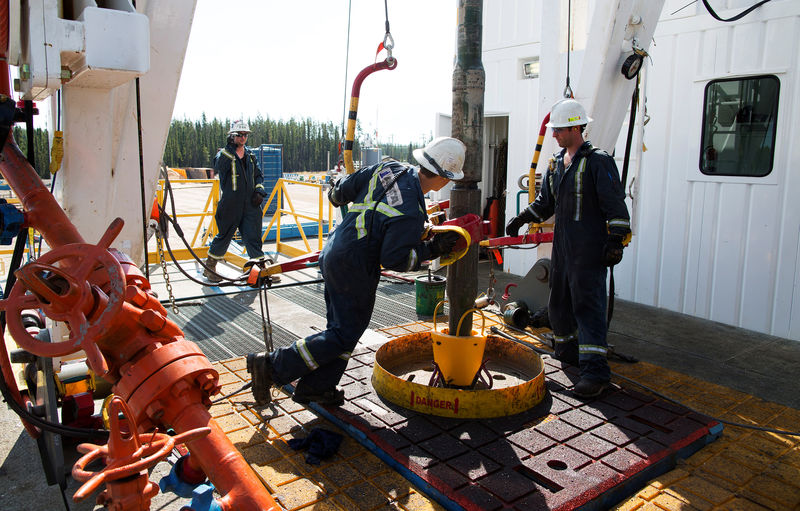 © Reuters.
By Peter Nurse
Investing.com - Oil prices were sharply lower Tuesday, snapping a five-day rally, with investors returning to fretting about how fuel demand will be affected by the impact of China's deadly coronavirus.
By 8:50 AM ET (1350 GMT), U.S. crude futures were 1.9% lower at $51.33 a barrel, while futures in U.K. Brent, the global crude benchmark, were down 2.1% at $56.48 a barrel.
The oil complex last week posted its first positive week in six, but the issues surrounding the Covid-19 virus haven't gone away and now traders have some gains to sell into.
The death toll continued to climb Tuesday, rising to 1,868, with the numbers of people affected topping 73,000.
The outbreak has prompted American credit-rating agency Moody's to downgrade its growth forecast for China in 2020 to 5.2%, from 5.8% previously, citing lower Chinese import demand.
"Assuming this is an event that continues to drag on through until the end of the first quarter and into early second quarter, we estimate this could see demand growth cut by around 400Mbbls/d over 2020," said Warren Patterson, an analyst at ING. "This would suggest that global demand growth could fall to somewhere in the region of 800Mbbls/d this year."
The bank has revised its ICE Brent forecast down to an average of $59/bbl from US$62/bbl over 2020, while stating that "an extended or more widespread demand impact could lead to further revisions lower, whilst similarly, failure from OPEC+ to act would likely mean further downside."
There was the expectation that the Organization of Petroleum Exporting Countries and its allies, a group called OPEC+, would agree to a reduction of an additional 600,000 barrels a day through to the end of June, while extending the current deal through to year-end.
However, Russia procrastinated, Libyan supply ground to a halt, taking in the region of 1 million barrels per day off the market, and last week's rise in the price of oil diluted the urgency to act.
Still, "given the demand impact from the coronavirus, we believe that current cuts of 1.7MMbbls/d need to be extended, along with continued over compliance from Saudi Arabia," added ING.
Original Article