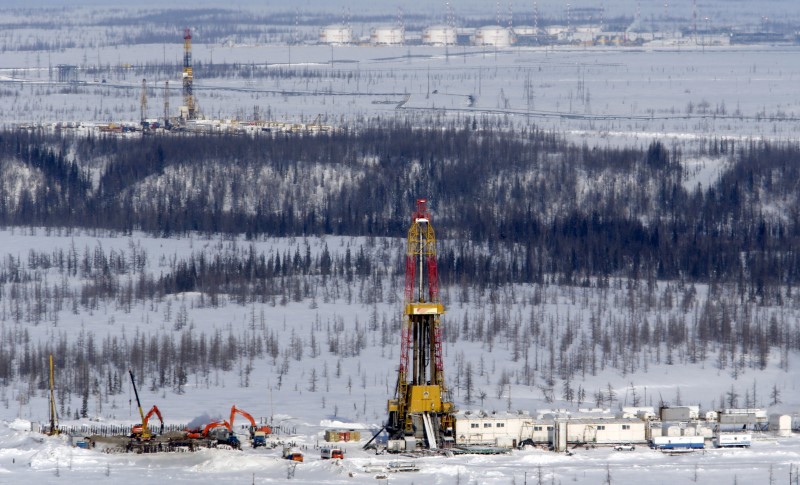 © Reuters.
By Peter Nurse
Investing.com - Oil prices were largely flat Monday, with investors pausing for breath after last week's strong gains as a U.S. holiday limits activity.
By 7:30 AM ET (1230 GMT), U.S. crude futures were flat at $52.32 a barrel, while futures in Brent, the global crude benchmark, were down 0.2% at $57.20 a barrel.
The oil complex last week posted its first positive week in six, with Brent gaining over 4% and Nymex more than 3%. It was helped by speculation the worst economic impacts of the virus may have been accounted for, especially after reports that China's independent refineries, known as "teapots," were back to buying some crude.
Adding to the positive tone Monday was the news the number of new coronavirus cases in China fell on Sunday, while the People's Bank of China provided medium-term funding to commercial lenders and cut its interest rate to the lowest level since 2017.
Still, there remains a lot to be cautious about.
Japan, the world's fourth-largest oil consumer, reported a hefty economic contraction for the final quarter of 2019, and expects more bad news in the following quarter because of the contagion. Elsewhere, Singapore and Thailand both cut their growth forecasts for 2020, citing virus-related impacts.
"We still think there is a risk that the contagion could rise again following the return of millions of people from the extended holiday and with workplaces starting up again. The full impact of this will probably show in a few weeks' time," said analysts at Danske Bank, in a research note.
Additionally, there must now be doubts as to the extent of new cuts to production from the Organization of Petroleum Exporting Countries and its allies, a group called OPEC+, when it next meets in March.
A meeting of the group's technical experts decided in early February that a reduction of an additional 600,000 barrels a day would be enough to trim some of the oversupply in the market and support prices, but Russia asked for more time to decide.
"OPEC+ was expecting a response within 'days' from Moscow. It's already 10 days and counting... I think very soon days turn into weeks," said Javier Blas, Chief Energy Correspondent at Bloomberg, in a tweet.
Original Article