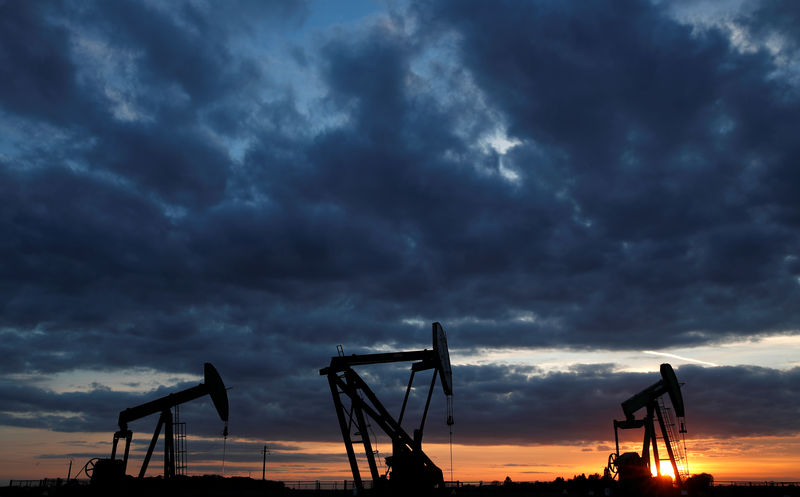 © Reuters.
By Peter Nurse
Investing.com - Oil prices traded lower Friday, as doubts remained about the extent and timing of future production cuts from major producers, while concerns about demand continued to mount.
By 9:43 AM ET (1443 GMT), U.S. crude futures were 1.4% lower at $50.24 a barrel, down around 4% on the week. Futures in U.K. Brent, the global crude benchmark, were 0.9% lower at $54.42 a barrel, over 4% lower this week, and set for the longest streak of weekly drops since November 2018.
A committee of technical experts from the Organization of the Petroleum Exporting Countries and its allies, known as OPEC+, recommended Thursday a production cut of 600,000 barrels a day. This would likely be on top of the existing 1.7 million b/d output cut accord that began in January and expires at the end of March.
But Russia asked for more time to assess the impact of the outbreak.
Russian Foreign Minister Sergei Lavrov has since said his country supports the recommendation from the Joint Technical Committee to deepen OPEC+ global oil supply curbs, but didn't mention by how much.
"The recommendation from the JTC is just a recommendation," said analysts at ING, in a research note. "Russia still needs to be convinced but reportedly will make a decision in the coming days. Furthermore, any deal would need to be voted on by OPEC+ ministers, and up until now a new date for the extraordinary meeting has not been agreed. So as things stand, OPEC+ are still set to only meet in early March."
That said, cuts of this magnitude would be more than enough for the market, assuming the demand impact from the virus is in line with OPEC's internal estimate, ING added.
OPEC's own analysis indicates a drop of around 400,000 barrels a day for about six months, an average of 200,000 barrels for the year.
This is at the low end of recent estimates. For example, BP (LON:BP) stated that the coronavirus could cut demand by up to 500,000 barrels a day over the year.
And the downgrades for the region's growth estimates continue to mount.
On Friday, S&P Global Ratings cut its Chinese 2020 growth forecast to 5%, down from 5.7%, saying the impact of the coronavirus outbreak could take a heavy short-term toll.
Singapore's biggest bank DBS on Friday downgraded its forecast for the city-state's 2020 growth rate to 0.9% from 1.4% previously, while Australia's central bank said the virus could shave 0.2 percentage points off his country's economic growth in the current quarter.
Elsewhere, anecdotal reports suggested that Asian prices for liquefied natural gas had fallen to new all-time lows in the wake of Chinese state-owned oil and gas companies declaring force majeure on LNG contracts to avoid taking delivery of spot cargoes. Natural Gas Futures bounced, modestly but remained near historic lows at $1.89.
Original Article