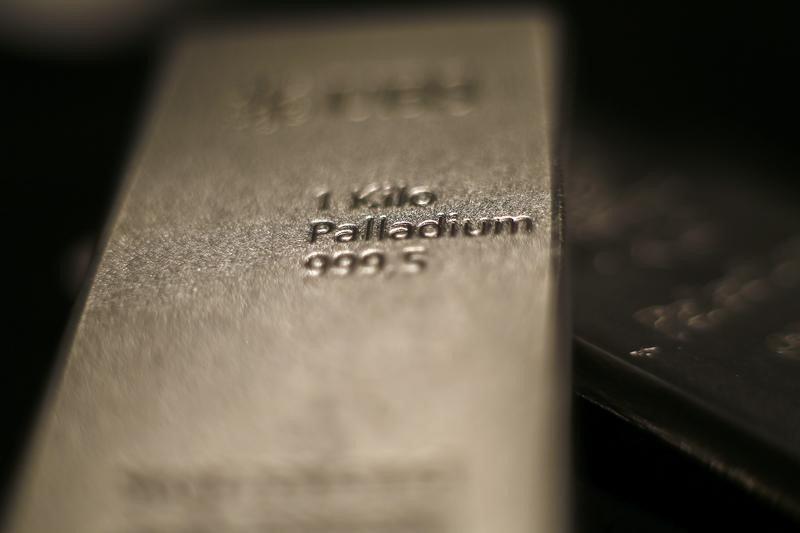 © Reuters.
By Barani Krishnan
Investing.com - The world's costliest metal got costlier -- then the metals universe slumped on Tuesday.
Autocatalyst agent palladium, up almost 30% in the three weeks since 2020 began, hit another record high before sliding on widespreading profit-taking that took gold and all other metals down.
Spot palladium surged to an all-time high of $2,527.14 before trading at $2,404.49, down $94.57, or 3.8%, by 3:00 PM ET (20:00 GMT). Despite the slide, it is up 24% on the year from gains built on worries about ever-tightening palladium supplies out of South Africa and Russia.
But palladium futures settled up $7.80 at $2,232.70. In post-settlement trade, it remained up, trading up $14.85, or 0.7%, at $2,239.75.
"Palladium went parabolic as chronic deficits were exacerbated by structurally-driven demand increases and power-outage-induced supply concerns in South Africa," TD Securities said in a note.
But some analysts said palladium could lose some of its wind here.
"Metals are weak across the board and the palladium market is in position to take profit further," said Eli Tesfaye, metals strategist at RJO Futures in Chicago. "I'm not ruling out a test of the $2,000 support level as we could be in a deflationary market environment."
Gold futures for February delivery on New York's COMEX settled down $2.40 at $1,557.90 per ounce.
Spot gold, which tracks live trades in bullion, was down $3.82 at $1,557.46.
Original Article