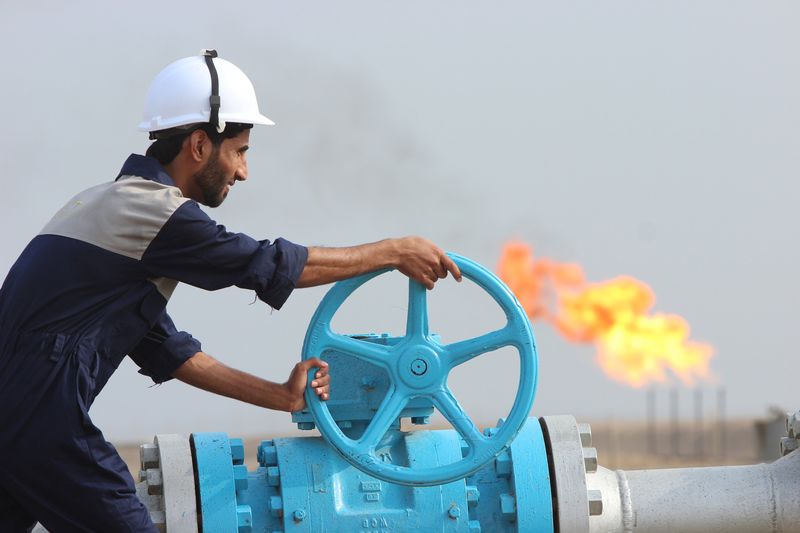 © Reuters.
By Barani Krishnan
Investing.com - About 95% of Libya's oil supply could be at risk, yet crude traders are barely alarmed, underscoring the market's bigger worries over the mammoth recent builds in U.S. fuel supplies.
West Texas Intermediate, the benchmark for U.S. crude, settled down 20 cents, or 0.3%, at $58.38 per barrel after the New York oil market reopened from Monday's Martin Luther King holiday. WTI ended last week down almost 1%.
London-traded Brent, the global crude benchmark, fell further, settling down 61 cents, or 1%, to $64.59.
Crude prices sunk despite reports since the weekend that Libya's National Oil Corp has declared force majeure, or a waiver on contractual obligations, on crude loadings out of the North African country. The force majeure followed blockade on oil shipments by Khalifa Haftar, a Libyan warlord opposed to Tripoli's internationally-recognized government.
As of Saturday, analysts estimated that production of 800,000 barrels per day or more may have been disrupted in Libya, including 300,000 bpd from El Sharara, the country's biggest oilfield.
If unmitigated, the country's output could fall to 72,000 barrels per day from a regular 1.2 million bpd, analysts warn.
Yet, notwithstanding Monday's trade where Brent rose slightly while trading in WTI remained officially closed for the MLK holiday, crude markets have barely shown any alarm toward the Libyan crisis.
And that could be due to the builds of 15.7 million barrels in U.S. gasoline stockpiles and 13.8 million in distillates inventories over the past two weeks, versus expectations of 5.8 million and 5 million respectively.
Further weighing on crude prices was the oil rig count published on Friday by industry firm Baker Hughes that showed drillers adding 14 rigs last week to bring to 673 the total number across U.S. oil fields. A higher rig count, in the simplest sense, means higher crude production. Over the past two weeks, the rig count had fallen, extending last year's drop of 208.
President Donald Trump, in Davos for the World Economic Forum, added to the bearish theme on Monday by describing the United States as being in an energy revolution that has "reawakened the powerful machinery of U.S. enterprise."
"The U.S. is thriving, flourishing and yes, the U.S. Is winning again," Trump said. Analysts said that signaled the determination of the Trump administration to encourage U.S. shale producers to crank out even more oil than the current estimated record high of 13 million bpd to retain the country's energy independence.
"Oil prices are giving back their MLK Day gains because … the impact on oil supply (from the Libyan crisis) is believed to be transient," said Phil Flynn, analyst at the Price Futures Group in Chicago.
Original Article