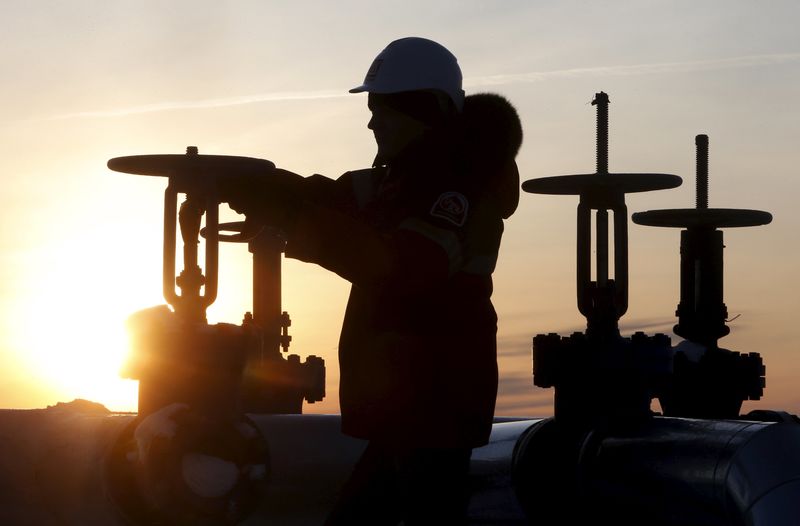 © Reuters.
By Barani Krishnan
Investing.com - Oil prices rose for the first time in a week on Tuesday as investors tried to look beyond the coronavirus and its debilitating impact on markets, though crude's real test might come from impending weekly stockpiles data.
New York-traded West Texas Intermediate, the benchmark for U.S. crude, settled up 34 cents, or 0.6%, at $53.48. It sunk to a near four-month low $52.16 on Monday.
Brent, the London-traded global benchmark for crude oil, closed up 19 cents, or 0.3%, at $59.51. In the previous session, Brent tumbled to $57.74, its lowest level since Oct. 8.
Crude rose as investors tried to shrug off pessimism brought on by the viral outbreak from China that has dealt the worst blow to energy demand since 2018. Analysts have estimated that the crisis and its impact on travel and other business could cause the energy industry lost consumption in hundreds of thousands of barrels of oil, including jet fuel.
Tuesday's rebound was partly helped by talk that OPEC might continue with its production cuts through June, versus earlier plans by the cartel to review its output curbs by March when it meets with production allies such as Russia. Since December, OPEC, Russia and other oil producers under a joint initiative called OPEC+ have resolved to take up to 2.1 million barrels per day off the market after earlier efforts to cut just 1.2 million bpd.
Saudi Energy Minister Abdulaziz bin Salman, who's also the most powerful figure in OPEC, sought to downplay oil's demand crisis on Monday, calling the coronavirus a transient risk that had been overblown.
"OPEC has started the jawboning process to support oil prices, with the Saudi energy minister saying that the fall in oil prices in only due to psychological factors," Olivier Jakob at Swiss oil risk consultancy PetroMatrix said.
Even so, it will remain "difficult to estimate the oil demand impact of the coronavirus", Jakob said, particularly for institutions like the U.S. Energy Information Administration (EIA) and the Paris-based International Energy Agency (IEA), which the market looks to for guidance.
Stockpiles of U.S. fuel products have gone up immensely in recent weeks and market participants will be looking to see what the EIA will announce in its data on Wednesday for the week ended Jan. 24.
Analysts expect the agency to say that crude stockpiles rose by 460,000 barrels last week, from a drop of 405,000 during the previous week to Jan. 17.
For gasoline stockpiles, the EIA is expected to report a rise of 1.17 million barrels, extending the previous week's build of 1.74 million.
On the distillates front, expectations are that inventories fell by 1.25 million barrels, after the previous week's drop of 1.19 million.
Ahead of the EIA's report, trade group American Petroleum Institute is expected to issue at 4:30 PM ET Wednesday its own snapshot on crude, gasoline and distillate stockpiles that usually serves as precursor to the government report.
Original Article