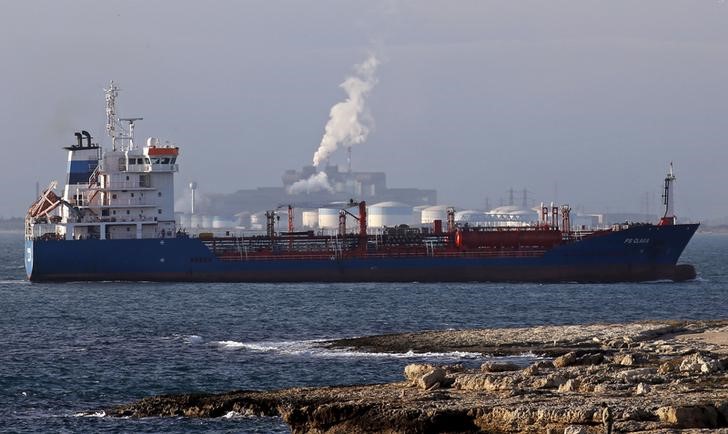 © Reuters.
By Peter Nurse
Investing.com - Oil prices pushed higher Friday, helped by signs the growth slowdown in China, the world's largest importer, may be coming to an end.
At 09:00 AM ET (14:00 GMT), U.S. crude futures traded 0.4% higher at $58.78 a barrel, while the international benchmark Brent climbed 0.5% to $64.92. As such, both blends are on track to end the week only a fraction below where they started it.
Earlier Friday, China reported that its gross domestic product grew 6% in the fourth quarter, meaning economic growth slowed to 6.1% in 2019. This may have been the country's weakest growth in nearly three decades, but traders zeroed in on the monthly data for industrial production, which grew at the fastest rate since April in December, while retail sales growth stayed at 8% and fixed asset investment ticked up from a multi-year low. All those indicators point to a bottoming out of the world's second-largest economy.
This follows on from the signing of the trade deal between China and the U.S. earlier this week, which capped - at least for now - hostilities between the globe's two economic powerhouses which have lasted for around 18 months and damaged global growth.
"The signing of the U.S.-China trade deal has given optimism for a revival in global manufacturing, and thus stronger oil demand growth," said Bjarne Schieldrop, Oslo-based chief commodities analyst at SEB AB, cited in a Bloomberg report. "This is what gives the oil price some vigor."
At the same time Schlumberger (NYSE:SLB), the world's largest oilfield service company, also said it sees improved demand in for its services 2020, after a second half in which its U.S. operations were hit by a sharp slowdown in U.S. drilling.
"We ended the year with 2020 oil demand growth sentiment turning positive as uncertainty reduced following the progress made toward a U.S.-China trade deal," the company said in its earnings release.
"The recent escalation of geopolitical risk should set the floor for the oil price going forward," it added, with a nod to the stand-off earlier this month between the U.S. and Iran.
Original Article