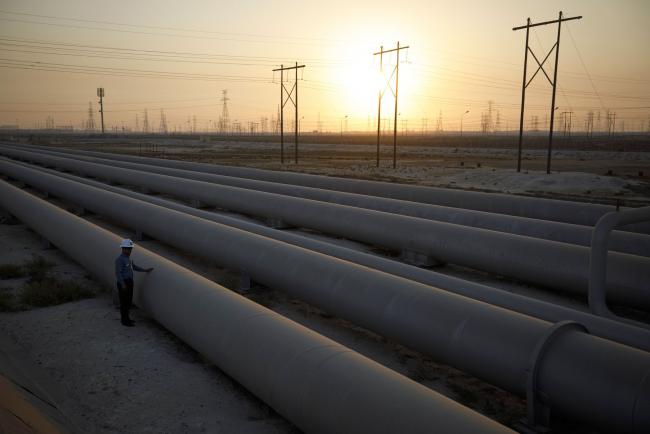 (Bloomberg) -- Oil headed for its worst weekly slump in more than a year amid fears that China's coronavirus will cripple fuel demand just as markets struggle with a fragile world economy and adequate supplies.
Futures sank as much as 2.9% in London to approach $60 a barrel for the first time since November as deaths from the coronavirus rose to 25 and China expanded travel restrictions for over 40 million people in an attempt to halt contagion. The U.S. is monitoring more than 60 people for potential infection, and lawmakers said health authorities are expected to confirm a third case.
The Asian virus has spooked traders even as the World Health Organization stopped short of declaring a global health emergency. The contagion is disrupting travel during the Lunar New Year holiday, when hundreds of millions normally fly or ride home. The selloff has accelerated as trend-following funds turned bearish, according to TD Securities.
"Contagion fears are spiking ahead of the biggest yearly migration ahead of new year," says Daniel Ghali, a commodities strategist at TD Securities. "The fear factor is the risk of contagion, synonymous to what happened in 2003 with SARS which led to a 2% drop in Chinese economic growth."
The fast-spreading virus is the latest challenge for a market that's been buffeted this year by geopolitical turmoil in the Middle East and North Africa, as well as the phase-one trade deal between Beijing and Washington. Goldman Sachs Group Inc (NYSE:GS). said earlier this week that, if the coronavirus has an impact similar to the 2003 SARS epidemic, demand could be curbed by 260,000 barrels a day.
See also: China's Economy Was Brightening This Month Before Virus Fear Hit
Brent crude for March settlement fell $1.54 to $60.50 a barrel on the ICE (NYSE:ICE) Futures Europe exchange as of 1:05 p.m. in New York. Futures were on track for a weekly loss of 6.7%, the biggest since Dec. 21, 2018.
West Texas Intermediate futures for March delivery slipped $1.37 to $54.22 a barrel on the New York Mercantile Exchange. Options traders are paying the most since Oct. 31 for protection against price swings, according to the CBOE/CME WTI volatility index.
Original Article