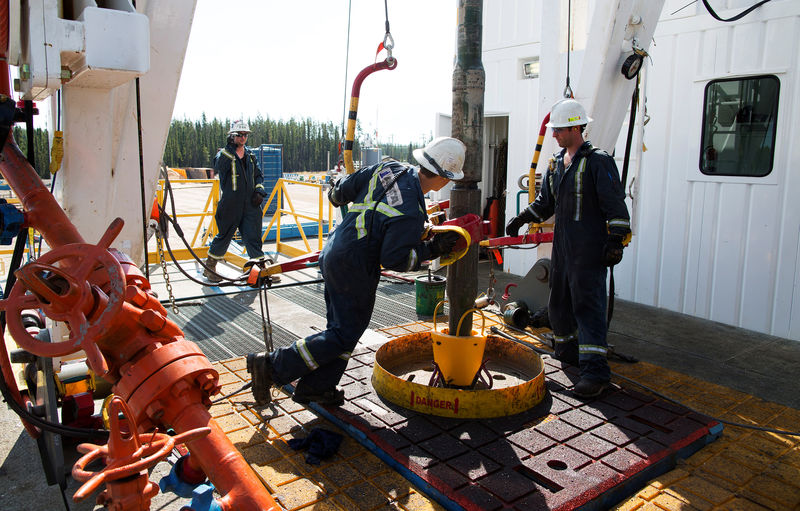 © Reuters.
By Peter Nurse and Kim Khan
Investing.com - Oil prices moved near unchanged in morning trading Wednesday as attention turned to the upcoming Federal Reserve decision. A large build in U.S. crude inventories canceled out talk of an attack on an oil facility in Saudi Arabia.
By 11:10 AM ET (1610 GMT), U.S. crude futures were little changed at $53.48 a barrel. U.K. Brent, the global crude benchmark, fared better and was up 0.3% to $58.97 a barrel.
Oil inventories rose by 3.5 million barrels for the week ended Jan. 24, the EIA said. Analysts predicted a build of 482,000 barrels, according to forecasts compiled by Investing.com.
Gasoline inventories were up by 1.2 million barrels, compared with forecasts for a rise of 1.3 million barrels. Distillate stockpiles fell by 1.3 million barrels, versus consensus expectations for a draw of about 1.1 million barrels.
"Once again, the EIA has surprised the market, this time with a crude build more than seven times to market expectations," Investing.com anlayst Barani Krishnan said. "The market's possibly still holding up because of the relatively better numbers for fuel stocks. And we also have the Fed later in the day, though a hold in rates seems to be a foregone conclusion."
"The positive elements in this dataset are the fuel inventories, with the gasoline build coming in at 500,000 barrels below forecasts and distillates being reverse to expectations," Krishnan sadi. "The crude build seems to match the lack in refining activity, which saw runs dropping to below 90% versus the usual average in the high 90s."
"We had almost 100,000 barrels more in exports and Cushing stocks rose by 70,000 barrels; nothing unusual there. And production remains at a stubborn record high of 13 million barrels per day."
Additionally Bloomberg reported Wednesday Yemen's Houthi rebels saying they had attacked Saudi Aramco's Jazan facility in southern Saudi Arabia with missiles and drones. Jazan is the site of a 400,000 barrel-a-day refinery.
However, these hits to global supply have been unable to keep oil prices on the black amid concerns remain about the extent of the hit to Chinese demand for crude from the deadly coronavirus.
"Price action since last Tuesday does suggest that the market is pricing in a fairly sizeable demand impact as a result of the Wuhan virus," said ING analysts Warren Patterson and Wenyu Yao at ING, in a research note.
British Airways became the first global airline to cancel flights to China in a bid to curtail the spread of the virus which has affected over 6,000 people, and resulted in 132 deaths, so far.
The impact on the price of oil of the move is uncertain, but it won't be positive.
Original Article