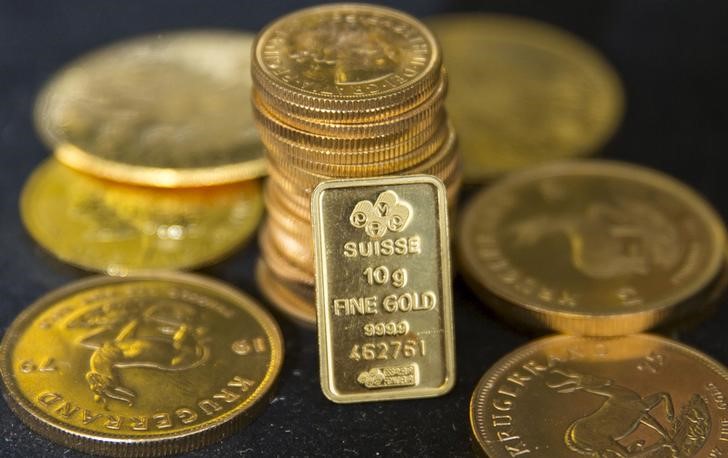 © Reuters.
By Geoffrey Smith
Investing.com -- Gold prices retreated on Tuesday as fears about the Chinese novel coronavirus receded, and portfolio investors again started to switch back into risk assets.
By 11 AM ET (1600 GMT), gold futures for delivery on the COMEX exchange were down 0.5% at $1,569.75 a troy ounce. Spot gold was down 0.7% at $1,570.89. Both were still within an uptrend that stretches back to mid-December.
The contract had posted its highest closing level in over six years on Monday as traders priced in a sharp drop in Chinese economic output due to the countermeasures being taken by the Chinese authorities to stop the spread of the disease. They include extended new year holidays for factories, the suspension of much public transport and the closure of public places popular for mass gatherings, such as stadiums and movie theaters.
However, the virus is not the only game in town, and risk assets were lifted on Tuesday by the Conference Board's consumer confidence index rising to a five-month high of 131.6 in January – comfortably above expectations for a reading of 128.0 -- against a backdrop of low unemployment and steady wage growth.
The numbers, which overshadowed a weaker set of durable goods orders earlier, came as the Federal Reserve convened for its latest two-day policy meeting. Although no change is expected to interest rates on Wednesday, the strength of the Conference Board data may nip in the bud any inclination to signal a bias to easing later in the year.
By contrast, the Bank of England's rate-setting meeting on Thursday still appears to be live after the Confederation of British Industry's distributive trades survey failed to improve as expected in January. That sends the opposite signal to the one from the CBI's survey of the smaller manufacturing sector earlier in the week.
Elsewhere in metals on Tuesday, silver futures also fell back, tumbling 2.7% to $17.58 an ounce, while platinum futures were effectively flat at $991.35 an ounce.
Copper futures, which have been a reliable indicator for Chinese industrial activity in recent years, signally failed to rebound in line with equity markets, falling another 0.4% to $2.59 a pound.
Original Article