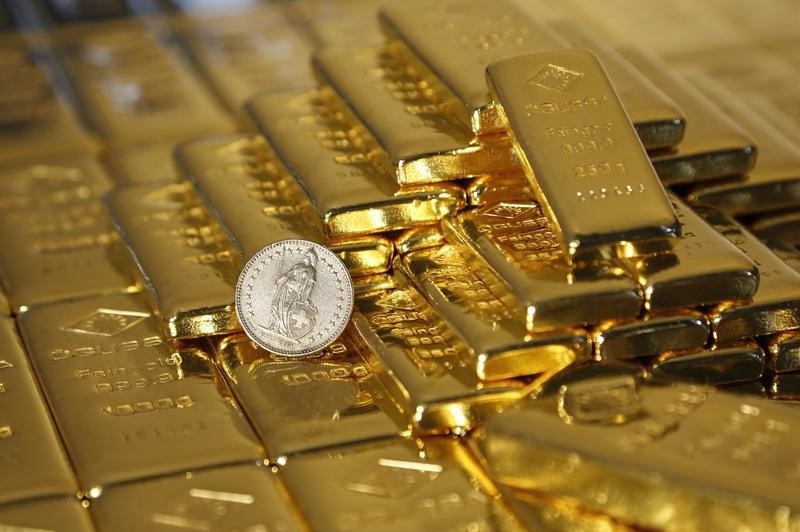 © Reuters.
By Geoffrey Smith
Investing.com -- Gold prices remained range-bound on Wednesday as markets were content to wait for the press conference of Federal Reserve Chairman Jerome Powell later in the day.
The Fed's two-day policy meeting wraps up at 2 PM ET (19:00 GMT), and Powell will speak half an hour later. Recent U.S. data – from the rise in the Conference Board's consumer confidence index to housing starts and the better-than-expected purchasing manager index published by IHS Markit – have suggested the U.S. economy still has enough momentum not to need further stimulus.
However, markets may be more concerned about the fate of the extra liquidity that the Fed pumped into the market via repo transactions before the end of 2019. While he has denied this was a resumption of quantitative easing, the longer the liquidity stays in circulation, the more that line looks like little more than semantic nit-picking.
By 11:30 AM ET (1630 GMT), for delivery on the COMEX exchange were essentially flat at $1,569.35 a troy ounce. was up 0.3% at $1,570.15.
were also flat at $17.43 an ounce, while lost another 1.7% to $977.75 and edged down to $2,184.30 an ounce. That came against a backdrop of a report from German engineering group Robert Bosch, who said that global car sales may already have peaked. Most industrial demand for platinum group metals is down to their use in catalytic convertors in internal combustion engines.
futures, meanwhile, hit their lowest in nearly four months at $2.56 a pound.
Earlier, gold had fallen as low as $1,565.40 as the market zeroed in on strong earnings reports from the likes of Apple (NASDAQ:) and Mastercard (NYSE:). However, there were also enough pockets of weakness to temper demand for risk assets, and lingering concerns about the impact of the novel coronavirus also returned to the fore as British Airway and Lufthansa cancelled all flights to China, while Toyota said it would suspend vehicle production in the country.
The World Health Organization said it would reconvene Wednesday to consider again whether to designate the outbreak a matter of global concern. So far, the death toll has reached 106, while the number of reported cases continues to grow at around 50% a day.
"The Fed set the bar high for further loosening at its last FOMC meeting in December by stating that a 'material reassessment' of the outlook would be required for the Bank to consider cutting rates again," said Capital Economics analyst Simona Gambarini in a research note. "So while the epidemic may get worse, we doubt that the Fed would respond unless there were a much larger and sustained drop in equity prices alongside a substantial worsening in the survey data."
Gambarini sees gold prices back at $1,400 by year-end, implying more than 10% downside from the current level.
Original Article