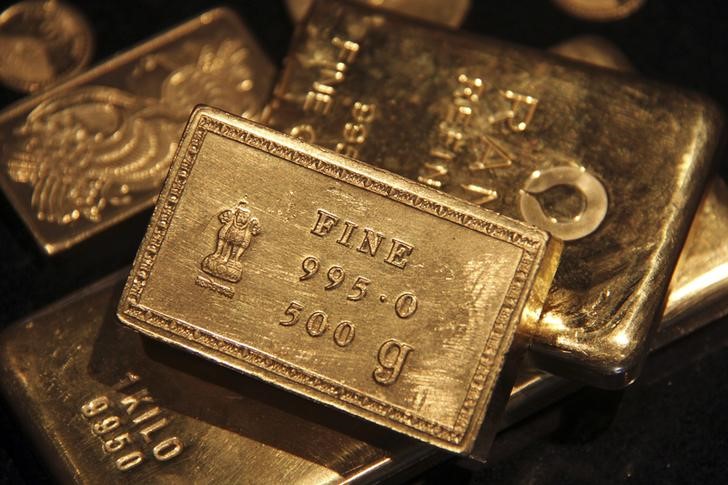 © Reuters.
By Barani Krishnan
Investing.com - The fear factor across markets is like manna from heaven for gold bugs.
Both bullion and futures of the yellow metal breached the key $1,580 per ounce resistance on Monday before consolidating gains, although analysts said the $1,600 target seemed well within the market's reach.
Gold futures for February delivery on New York's COMEX settled up $5.50, or 0.4%, at $1,577.40 per ounce. It earlier reached $1,588.10, a peak since Jan. 8.
Spot gold, which tracks live trades in bullion, was up $10.38, or 0.7%, at $1,580.74 per ounce by 3:00 PM ET (20:00 GMT), after hitting a three-week high at $1,588.62.
"The uptrend may be expected to continue in case the market rises above resistance level $1,588, which will be followed by reaching resistance level $1,600," Anton Kolhanov, an independent trader and technical strategist for gold, said on Monday.
Gold briefly hit seven-year highs above $1,600 on Jan. 8 from a spike in U.S.-Iran tensions. It has since traded in a wide $1,550-$1,580 range before rising again since late last week on the fears that the coronavirus will become a global pandemic. The virus has so far killed at least 81 people and infected nearly 3,000 in China, and spread to more than a dozen countries, including the United States, where five cases have so far been confirmed.
"The market is again taking a shining to gold, as its safe-haven appeal provides another reason to be bullish," TD Securities said in its Monday note on precious metals.
investors in gold are also on the lookout for what the Federal Reserve will announce on Wednesday in its policy statement for January.
The Fed cut rates by a quarter point for three months back to back last year, before ending that brief and relatively-muted easing cycle in December.
While the U.S. economic outlook has been favorable since, few expect the Fed to raise rates in the near future, a development that should bode well for gold, especially if the coronavirus crisis continues.
TD Securities said it suspected the central bank's policy meeting this week will "quell any lingering concerns that the Fed will be looking to take back its cuts any time soon".
"Further, while we don't expect much CTA flow in the complex in the near term, we expect continued buying flow in Treasuries, which could help precious metals as rates are pressured," it added.
Original Article