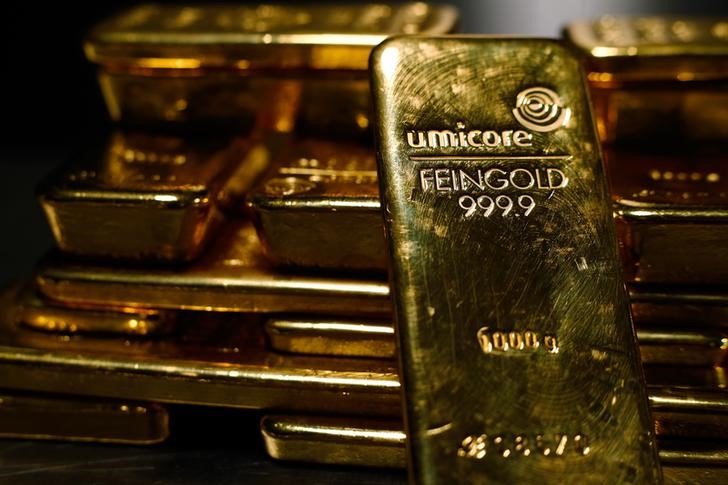 © Reuters.
By Geoffrey Smith
Investing.com -- Gold prices fell on Tuesday but stayed well within recent ranges in the lack of major market-relevant developments.
By 12 PM ET (1700 GMT), gold futures for delivery on the Comex exchange were down 0.2% at $1,557.55 a troy ounce. Spot gold was down 0.2% at $1,557.86.
The metal had risen earlier as Asian and European markets sold off on reports of the spread of the so-called coronavirus in China.
The disease has so far claimed only six confirmed deaths, but with Chinese authorities confirming that it can be transmitted from person to person, fears of a SARS-style epidemic, with all its attendant negative impact on growth, have risen.
As such, global stocks spent most of the day in negative territory before the U.S. market found in buyers for its dip.
Gold, as usual, has struggled to gain in line with equities and has regularly run into selling above $1,560 in recent days, argues Craig Erlam, an analyst with OANDA. "This period of consolidation therefore continues to look weak for the yellow metal, which suggests we could see $1,540 coming under pressure again in the not-too-distant future," he wrote in a research note Tuesday.
Downward pressure is all the likelier if the dollar can build on its strong start to the year, he added. The dollar index is up over 1% since the start of the year.
Gold still has its advocates, however, in the light of still-elevated uncertainty over the economic outlook. Apart from the coronavirus risk to China, President Donald Trump revived his threats of tariffs against European imports Tuesday as he prepared to meet EU Commission President Ursula von der Leyen in Davos.
David Rosenberg, the former chief economist of Gluskin Sheff & Associates who now heads his own research firm, told Bloomberg in an interview that: "Gold is a place you want to be."
"I think that it's partly because its inversely correlated with interest rates. But it's also an insurance policy when things go wrong," he said. "There's no such thing as a no-brainer, but this is close."
Elsewhere in metals Tuesday, silver futures fell 1.3% to $17.84 an ounce, while platinum futures fell 1.5% to $1,009.00, bouncing smartly after a brief dip under $1,000.
Copper, the bellwether for global industrial activity, fell 1.7% to $2.80 a pound.
Original Article