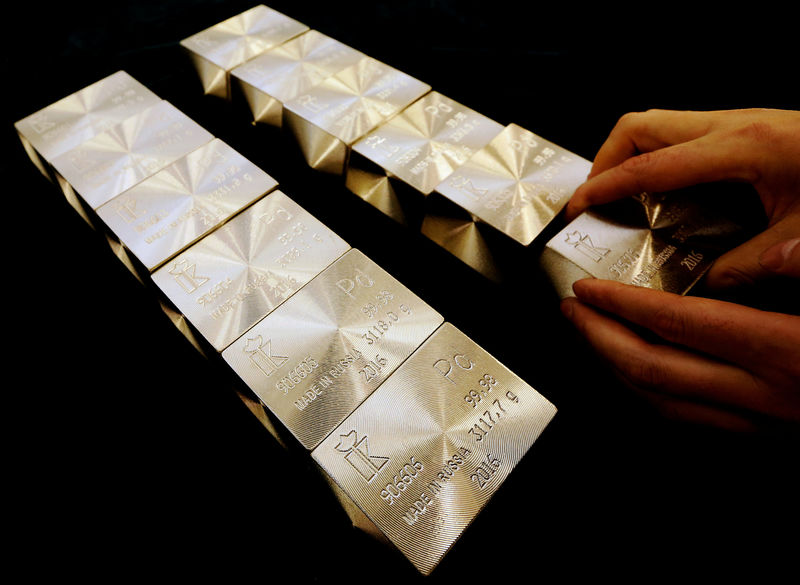 © Reuters.
Investing.com - It took eight years, but palladium has finally done it, erasing gold's all-time highs on Thursday on persistent worries about the auto-catalyst metal's tight supplies.
Gold, meanwhile, dipped slightly in otherwise steady trade as a rash of tweets left the market befuddled on whether the Trump administration would indeed halt new punitive tariffs on Chinese imports due this weekend. Bloomberg, however, reported after the regular trading session for gold in New York that an "agreement in principle" had been reached on a phase one trade deal between the U.S. and China.
The spot price of palladium surged to its highest peak ever of $1,946 before retreating to $1,937.72 by 2:05 PM ET (19:05 GMT) — still up $27.72, or 1.5%, on the day.
The spot price of gold reached an all-time high of $1,920.80 in September 2011.
Spot palladium has hit record highs for 15 days in a row after surpassing $1,900 on Tuesday. The rally came as flooding triggered power blackouts that shut down mines in South Africa, the major palladium producing country.
Palladium futures for March delivery on Comex settled up $29.10, or 1.5%, at $1,914.20, after setting a record intraday high at $1,919.75.
Palladium futures are up 60% on the year while spot palladium has gained 52%, easily making the metal, which serves as a purifying agent for gasoline emissions, the best-performing commodity of 2019.
"Palladium has been one of the stars of not just the metals, but the commodities arena overall for the year," David Meger, director of metals trading at High Ridge Futures, told Reuters.
"Just the power outages bring about more supply constraints to what is already a tightly supplied market with strong demand."
Gold gave up some of its gains from two previous days after the Wall Street Journal reported the White House was planning a tariffs ceasefire with China. Bloomberg reported late afternoon in New York, after gold futures settled their trade, that the United States and China have reached a phase one trade deal in principle that was awaiting a sign-off from President Donald Trump.
Trump tweeted earlier on Thursday that the two sides were "very close" to a deal, sending stocks on Wall Street to record highs, weighing on gold, which is an alternative to equities. But many traders across markets also appeared skeptical about the tweet, given the president's proclivity for using hyperbolic language without results.
Since the week began, attention across markets has been riveted on the trade war and how the Trump administration would proceed come Sunday, the deadline for the imposition of tariffs on another $156 billion worth of Chinese goods.
Gold futures for February delivery on New York's COMEX settled settled down $2.70, or 0.2%, at $1,472.30.
Spot gold, which tracks live trades in bullion, settled down $2.70, or 0.2%, at $1,472.30 by 2:37 PM ET (19:37 GMT).
Spot gold is up 15% on the year, while gold futures are showing a 14% gain.
Analysts said gold was likely to spend the remaining two weeks of the year, moving within a range of $1,465-$1,485 an ounce, after weathering Wednesday's expected decision by the Federal Reserve to end rate cuts for 2019 following three back-to-back quarter-percentage point reductions.
"This lends strength to the view that gold will continue to bounce higher into 2020," TD Securities said in a note about gold.
Original Article