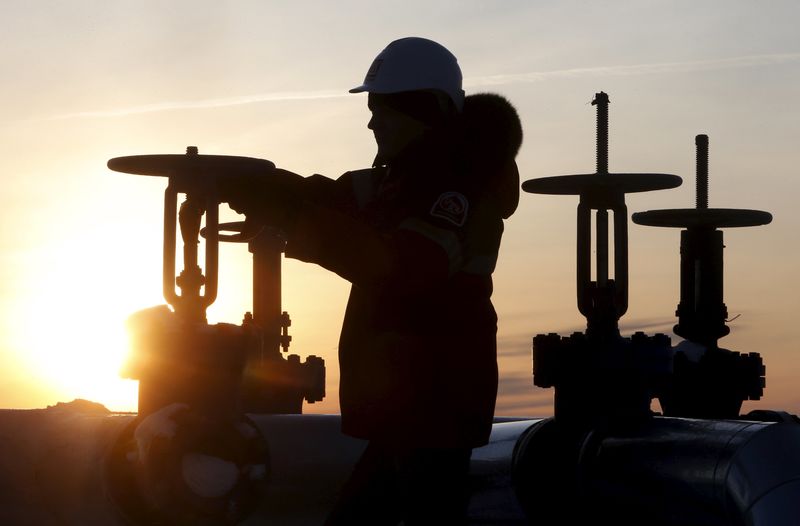 © Reuters.
Investing.com – Canceled China tariffs or weak oil demand, which is bigger? Oil traders obviously think the former, pushing crude prices up Thursday on signs the Trump administration was pulling back higher duties due this weekend on Chinese imports.
Both U.S. West Texas Intermediate and U.K. Brent crude futures were up about 1% each as traders looked beyond the weak oil-demand forecast for next year by the International Energy Agency (IEA) to focus instead on a Wall Street Journal report that the White House was planning a tariffs ceasefire with China. Trump's tweet that the two sides were "very close" to a deal also fueled positive speculation, though the president habitually resorts to such language without results.
NYMEX-traded WTI, the U.S. crude benchmark, was up 67 cents, or 1.1%, at $59.43 per barrel by 12:15 PM ET (17:15 GMT), recouping Wednesday's 48-cent, or 1%, drop.
ICE-traded Brent, the global oil benchmark, also rose 1.1%, or 72 cents, to trade at $64.44. It fell 62 cents, or 1%, in the previous session.
Crude prices overcame a weak start after the Journal reported that U.S. trade negotiators have offered to cancel a new round of tariffs on imported Chinese goods set to take effect on Sunday as part of an effort to cement a phase one deal to de-escalate the trade conflict between the two powers.
U.S. negotiators reportedly offered to cut existing tariffs by as much as half on roughly $360 billion of Chinese-made goods to keep talks going, according to people briefed on the matter.
Trump, in his usual hyperbole style, tweeted: "Getting VERY close to a BIG DEAL with China. They want it, and so do we!"
Oil was down earlier after the Paris-based IEA said global oil inventories could rise sharply through March despite an agreement by OPEC and its allies to deepen output cuts, as well as lower expected production by the United States and other non-OPEC nations.
"Despite the additional curbs ... and a reduction in our forecast of 2020 non-OPEC supply growth to 2.1 million barrels per day (bpd), global oil inventories could build by 700,000 bpd in Q1 2020," the IEA said in its monthly report distributed Thursday.
OPEC, in its own monthly report on Wednesday, said it expected a small oil market deficit in the next year, suggesting the market is tighter than previously thought.
Original Article