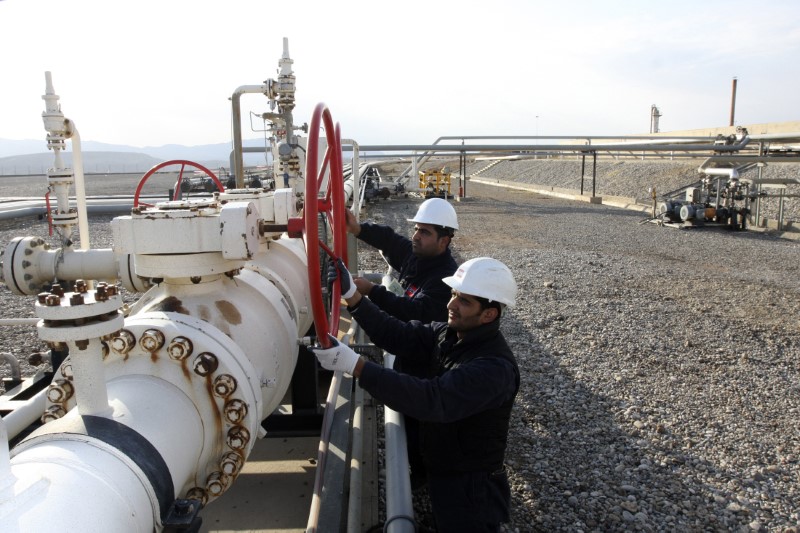 © Reuters.
Investing.com - The buildup in stocks of U.S. gasoline and other fuels isn't slowing, to the dismay of oil bulls. Neither is there word coming on whether China will avert new U.S. tariffs by Sunday.
Oil prices fell Wednesday following the latest report on U.S. supplies that showed an unexpected rise in crude inventories and very strong refining activity that produced a huge climb in gasoline and distillate stockpiles.
U.S. West Texas Intermediate, the U.S. crude benchmark, settled down 48 cents, or 0.9%, at $58.76 per barrel.
U.K. Brent, the global oil benchmark, closed the regular New York trading session down 62 cents, or 1%, at $63.72.
Crude inventories rose by 822,000 for the week ended Dec. 6, the U.S. Energy Information Administration said. The market was looking for a drawdown of 2.76 million barrels, according to analysts' forecasts compiled by Investing.com.
Gasoline inventories soared by 5.4 million barrels, compared with expectations for a rise of about 2.5 million barrels. That was the largest weekly build in gasoline since January, according to EIA records.
Distillate inventories, meanwhile, climbed by 4.1 million barrels, versus forecasts for a build of about 1.6 million barrels.
"It appears once again that refiners are turning out products at a frenetic pace that the market probably doesn't need and that explains the continuous builds in gasoline and distillates that we're having," Investing.com analyst Barani Krishnan said.
"Refinery runs are continuing at over 90% of standing capacity," Krishnan added. "The drawdown of nearly 3.5 million barrels at the Cushing Oklahoma delivery point for WTI clearly shows the blistering pace of refining that's going on."
Imports ticked up for the week to nearly 7 million barrels.
"The takeaway for oil bulls would be the first dip in production for a long time, which the EIA estimates is down to 12.8 million bpd from a previous 12.9 million," Krishnan said. "Also, exports of crude got a huge boost of 265,000 bpd last week."
Also weighing on oil was the U.S.-China trade wrangle and how the Trump administration would proceed come Sunday, the deadline for the imposition of tariffs on another $156 billion worth of Chinese goods.
"The 500-pound gorilla in the trading room is whether a deal can be reached with China," Tariq Zahir, founder of New York oil-focused fund Tyche Capital Advisors, said.
"If we do not see a deal reached, or minimally a delay in imposing new tariffs, we could see a substantial risk-off posture being taken in all asset classes across the board. Imposing the new tariffs, in our opinion, would lead to a risk off across everywhere."
Original Article