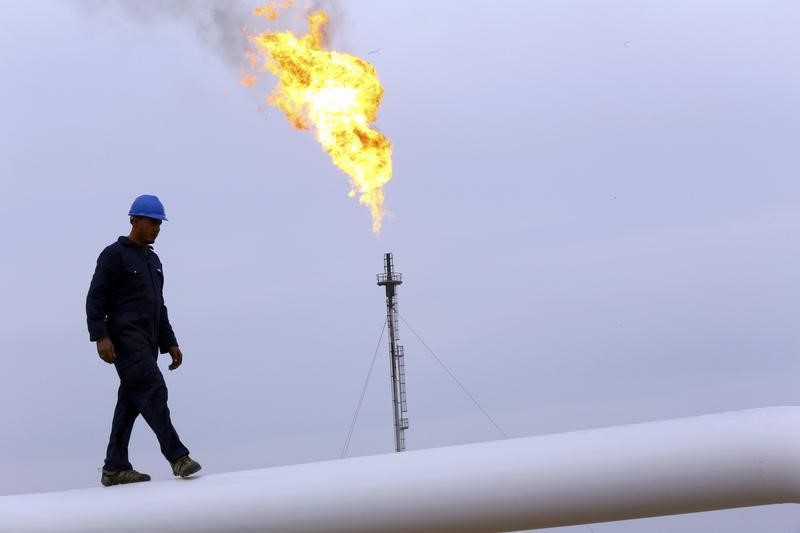 © Reuters.
Investing.com – On paper it was a strong week for oil. In reality, the new production cuts OPEC promised to get the market up may not deliver many fewer barrels over the next three months, analysts say.
U.S. West Texas Intermediate crude settled up 77 cents, or 1.3%, at $59.20 per barrel, after reaching a session high of $59.84, just cents short of the $60 level much sought by oil bulls.
For the week, WTI was up 7.3%, helped by Wednesday's 4% rise on data showing steep declines in U.S. crude stockpiles.
U.K. Brent, the global benchmark for crude, settled up $1, or 1.6%, at $64.39. For the week, it rose 3.1%.
OPEC+, which includes ally Russia, agreed in Vienna on Friday to reduce its output limit by another 500,000 barrels a day, adding to the previous 1.2 million bpd pact that will remove 1.7% from world supply altogether.
OPEC's de facto leader Saudi Arabia, meanwhile, pledged to cut another 400,000 bpd of its own if the rest of OPEC keep to their deal.
The kingdom will pump 9.7 million barrels a day, Saudi Oil Minister Abdulaziz bin Salman said. That's a reduction of about 300,000 barrels a day from its output in November and 100,000 below the year-to-date average, according to data compiled by Bloomberg.
Analysts, however, remained skeptical about the promises.
"OPEC's track record for cuts, sans the Saudis, is simply horrible," said John Kilduff, founding partner at New York energy hedge fund Again Capital. "The group as a whole has never been very good in complying with production deals. I don't know why it would be any different this time around."
"But there's a new sheriff in town in the form of the new Saudi oil minister, so we'll see."
Kilduff also said the new deal could be counterproductive for OPEC if higher crude prices ultimately encourage more production from oil-producing countries outside the cartel.
"Higher prices will prompt more competition to come in and it could be all non-OPEC oil, not just shale," he said. "We know the U.S. drillers have been restrained for some time. But at the same time, there's growing Brazilian and other output competing for more market share."
Original Article