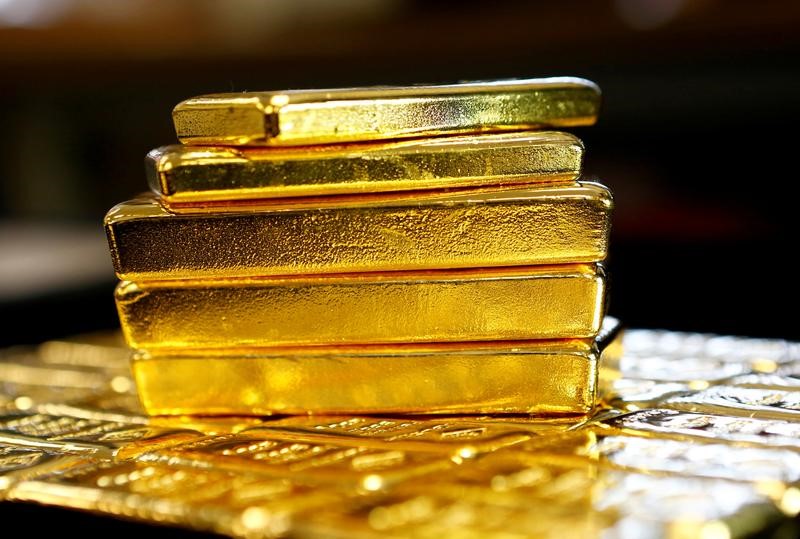 © Reuters.
Investing.com – The Fed decided to hold on rates, as expected, but gold has moved beyond the flat decision, continuing to rise Wednesday on the Trump administration's indecision over new tariffs for China. Palladium, meanwhile, hit another record high that brought it just a couple of dollars short of gold's all-time high.
Gold futures for February delivery on New York's COMEX settled up $6.90, or 0.5%, at $1,475 per ounce.
Spot gold, which tracks live trades in bullion, was up $9.08, or 0.6%, at $1,473.04 by 2:37 PM ET (19:37 GMT).
The Federal Reserve kept U.S. rates unchanged at 1.5% to 1.75% in its December's policy decision, bringing an end to three back-to-back cuts between July and October, as it noted strong economic and labor-market growth.
In theory, gold would have benefited more from another Fed cut that would have technically softened the dollar and boosted the yellow metal as an alternative.
Yet, investors in gold were looking beyond rates on Wednesday, with attention across markets riveted on the U.S.-China trade wrangle and how the Trump administration would proceed come Sunday, the deadline for the imposition of tariffs on another $156 billion worth of Chinese goods.
"In the event the tariffs are not canceled by Friday, then we may see a rise in risk aversion ahead of the weekend" that could benefit gold, Fawad Razaqzada, a London-based analyst for forex.com, said in his daily note.
In palladium, prices of the auto-catalyst metal hit record highs for a 13th day in a row as a power crisis halted mine output in major producing country South Africa, exacerbating concerns over already tight supplies.
The spot price of palladium surged to its highest peak ever of $1,919 before retreating to $1,918.54 by 3:00 PM ET (20:00 GMT) — still up $22, or 1.2%, on the day.
That was less than $2 short of spot gold's all-time high of $1,920.80 in 2011.
Palladium futures for March delivery on Comex settled up $16, or 0.9%, at $1,885.10, after an all-time high of $1,891.91.
Original Article