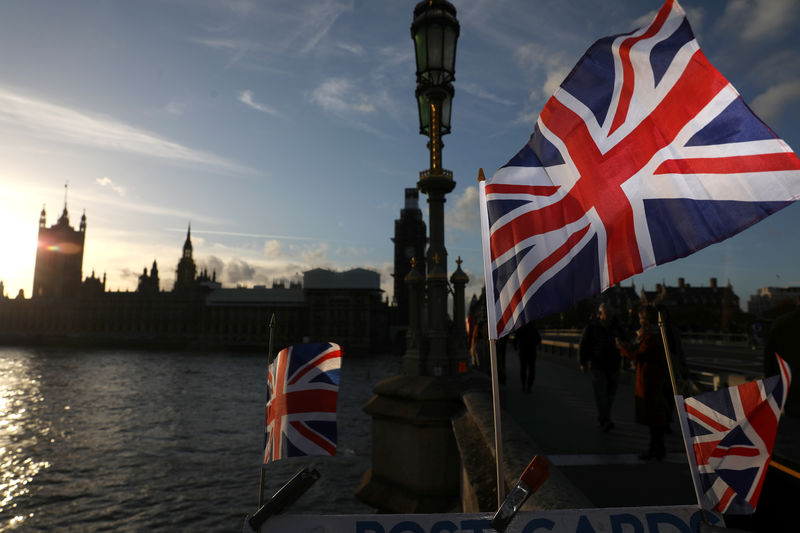 © Reuters.
Investing.com – The pound retreated further on Thursday on fears the ruling Conservative party is set to secure a narrower parliamentary majority than expected after the latest polls showed its lead had shrunk ahead of election results due later.
The YouGov MRP constituency-by-constituency poll predicts the Tories would win 339 seats, giving the governing party a majority of 28. That was well below the 68-seat majority the same YouGov MRP poll predicted that Johnson would end up with only two weeks ago.
GBP/USD fell 0.49% to $1.3127.
A conservative victory would boost hopes of U.K. Prime Minister Boris Johnson getting his Brexit deal approved, ending a long-standing deadlock on parliament and likely lead to ramp-up in business investment, which has come under pressure amid Brexit uncertainty.
Many have suggested the size of majority that the Conservative may be able to win will determine how much room the pound has to rise.
"The immediate price action in sterling will obviously be driven by the election outcome, but the magnitude of the majority will also be important," said Ugo Lancioni, head of global currency at Neuberger Berman.
An unlikely majority for Labour, however, would see the U.K. head toward another referendum that could ultimately reverse the decision to leave the European Union.
An exit poll on the election is expected a little after voting closes at 5 PM ET (22:00 GMT), with the final results expected in early hours Friday.
The fall in the pound was also exacerbated by sharp upturn in the dollar on easing fears that the U.S. and China are heading for another collision on trade after President Donald Trump said a deal with China is "very close."
The U.S. dollar index, which measures the greenback against a trade-weighted basket of six major currencies, rose by 0.31% to 97.38.
Gains in the dollar, however, were kept in check by data showing wholesale inflation slowed last month.
The Labor Department said on Thursday its producer price index for final demand was flat last month, below economists' forecasts for a 0.2% rise. In the 12 months through November, the PPI rose 1.1%, undershooting forecasts of 1.2%.
EUR/USD, meanwhile, fell 0.12% to $1.115 as traders digested comments from European Central Bank Governor Christine Lagarde following an unchanged decision on monetary policy from the central bank.
USD/JPY rose 0.61% to Y109.20 and USD/CAD rose 0.07% to C$1.3178.
Original Article