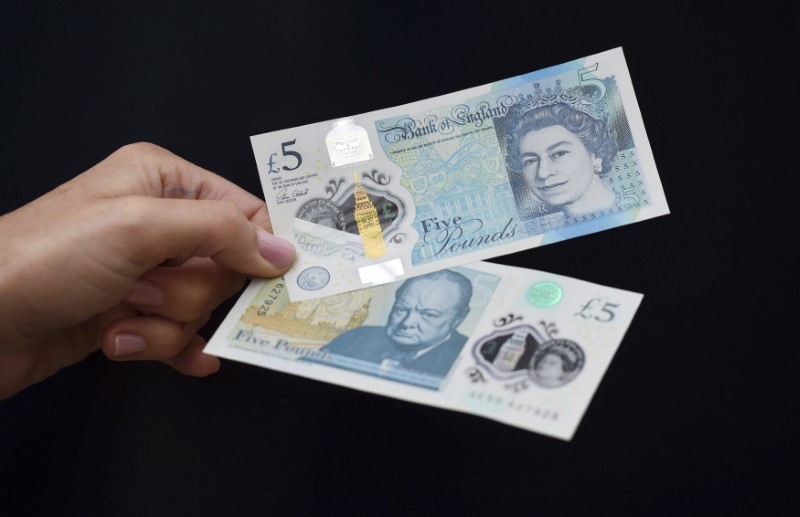 © Reuters.
Investing.com - The British pound fell on Wednesday in Asia as Brexit risks blew up again.
The GBP/USD pair fell 0.2% to 1.3098 after falling more than 1% in the previous session.
Risks of a no-deal Brexit resurfaced again after reports in the U.K. said Prime Minister Boris Johnson will change the law to ensure that the transitional phase of relations between the U.K. and EU ends as scheduled on Dec. 31.
That would leave little time to reach a trade deal with the European Union.
The USD/JPY was little changed at 109.43 against the U.S. dollar following the release of data that showed Japan's export fell 7.9% in November from a year earlier, which is its 12th straight month of decline. Imports also fell 15.7%.
The U.S. Dollar Index that tracks the greenback against a basket of other currencies inched up 0.1% to 96.873. Overnight, Dallas Fed President Robert Kaplan reiterated that interest rates will be kept on hold unless there is a huge change in the U.S. economic outlook.
"I've already got baked into my outlook, we're going to have weak manufacturing next year, sluggish global growth, pretty sluggish business investment, but with a strong consumer," Kaplan said in a Bloomberg Television interview.
"I'd been worried that weak business investment and weak manufacturing would seep into other parts of the economy. We haven't seen that yet," he said.
"We've got a very tight jobs market, and there's no evidence I see that the jobs market is doing anything but getting tighter. That's a pretty good tailwind for the consumer," he said. "So, unless something changes, that causes the employment picture to change, the consumer is going to be solid for next year."
Meanwhile, the AUD/USD pair slipped 0.1% to 0.6844.
Original Article