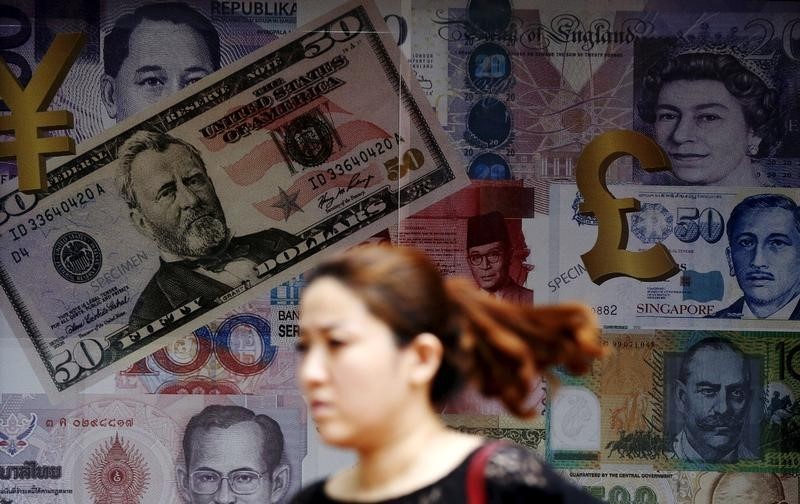 © Reuters.
Invesing.com – The U.S. dollar fell on Monday amid uncertainty over whether the U.S. and China will be able finalize a partial trade deal and avoid a ramp-up in trade tensions before a deadline set for the end of this week.
The U.S. dollar index, which measures the green against a trade-weighted basket of six major currencies, fell by 0.04% to 97.62.
Ahead of the Dec. 15 deadline – when the U.S. is slated to impose tariffs on another $156 billion on Chinese goods -- China said that it hoped to make a trade deal as soon as possible.
The phase one trade deal has been held back as both the U.S. and China have been unwilling to give into each others' demands.
Beijing wants Washington to agree to roll back the previously imposed tariffs on China goods. Washington has demanded that China agreed to purchase a specific minimum amount of U.S. agricultural goods.
Larry Kudlow, director of the White House National Economic Council, said on Friday that a deal was "close," but also urged President Donald Trump to walk away if China did not meet certain conditions.
The rise in the pound also weighed on the dollar as polls over the weekend continued to signal that the Conservative party, led by Prime Minister Boris Johnson, would likely win a majority of the seats in the General Election.
Britain Elects' poll tracker showed a gap of 11.9 points, 42.9% against 33%, up 0.5 in favor of the Tories.
GBP/USD rose 0.15% to 1.3154.
Conservatives "lead in the polls is holding reasonably steady at around 10% and the scope for Labour to make inroads is diminishing fast," said Rupert Thompson, Head of Research at wealth management group Kingswood.
EUR/USD rose 0.05% to $1.1063 and USD/JPY rose 0.03% to Y108.62
USD/CAD fell 0.19% to C$1.3230, but gains in the loonie were limited by a fall in crude oil prices.
Original Article