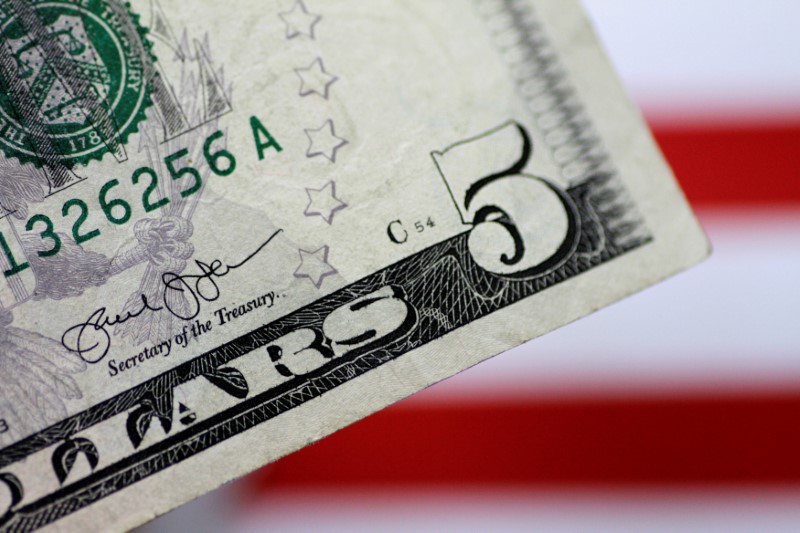 © Reuters.
Investing.com - The dollar edged lower against a basket of its rivals on Thursday as mixed messages on trade from U.S. President Donald Trump tempered hopes that China and the U.S. may soon reach an agreement to end their protracted trade war.
Trump said on Wednesday that trade talks with China were going "very well," sounding more positive than on Tuesday when he said a trade deal might have to wait until after the 2020 U.S. presidential election.
His comments on Tuesday, which raised the prospect of a long extension of the trade war between the world's two largest economies, hit market sentiment.
Markets rebounded on Wednesday when Bloomberg reported that the two sides are moving closer to an agreement.
"I thought the markets had stopped playing headline ping- pong on trade, but evidently not," said National Australia Bank's head FX strategist, Ray Attrill. "Another day, another reversal of what happened the previous day."
If Beijing and Washington cannot reach an agreement soon, the next important date is Dec. 15, when the U.S. is due to impose more tariffs on Chinese goods.
Movements in major currencies were muted. The safe-haven Japanese yen was steady at 108.86 per dollar by 02:56 AM ET (7:56 GMT), while the Swiss franc inched higher to 0.9879 per dollar.
The euro was a touch higher against the dollar at 1.1083, which pushed the U.S. dollar index down 0.1%.
In the euro zone, data showed that German factory orders unexpectedly declined in October, indicating that the manufacturing sector in the bloc's largest economy is struggling to pull out of a more than year long slump.
The British pound touched fresh eight-month highs, buoyed by expectations that Prime Minister Boris Johnson would win a majority at next week's election, paving the way for Britain to leave the European Union on Jan. 31.
Currency traders are turning their attention to the closely watched U.S. non-farm payrolls report due Friday to determine how well the U.S. economy is holding up amid a global slowdown.
The Australian dollar dipped to 0.6843 after softer-than-expected retail sales data.
The New Zealand dollar was at 0.6536 after rising as high as 0.6562 overnight, its strongest since August. The kiwi has been boosted this week by a rebound in domestic business sentiment while expectations for monetary easing have diminished.
The Reserve Bank of New Zealand on Thursday lifted bank capital requirements, but not as much as some investors had feared, and with a long lead time, reducing expectations that monetary easing might be needed to offset the hike's tightening effects.
--Reuters contributed to this report
Original Article