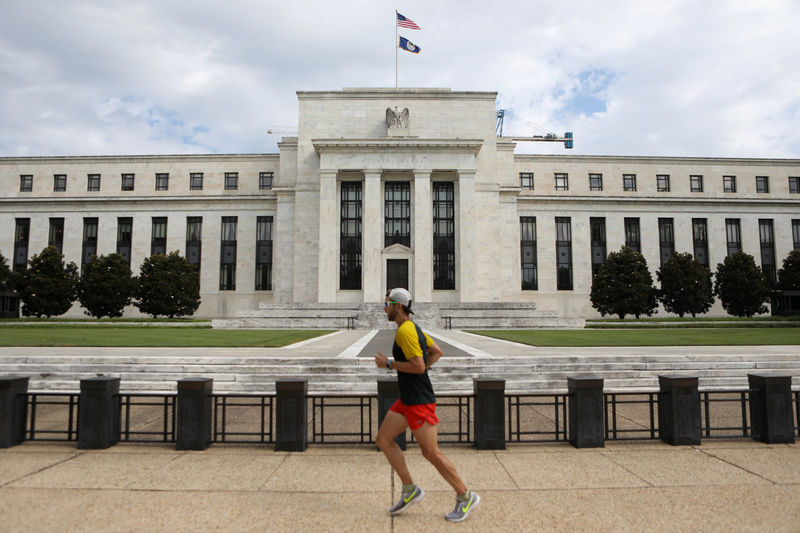 © Reuters.
Investing.com - The Federal Reserve kept interest rates on hold Wednesday, signaling that the current path of monetary policy was "appropriate" to support economic growth and would likely remain in place through next year.
The Federal Open Market Committee left its benchmark rate unchanged in the range of 1.5% to 1.75%.
"Committee judges that the current stance of monetary policy is appropriate to support sustained expansion of economic activity, strong labor market conditions, and inflation near the Committee's symmetric 2 percent objective," the FOMC said in its statement.
In July, the Fed cut interest rates for the first time since the Financial Crisis, more than a decade ago. Two further rate cuts followed the July cut.
Following the third rate cut at its October meeting, the Fed cooled expectations for further easing, insisting that monetary policy would remain on pause unless there was a material change to its outlook, particularly on inflation.
Members of the rate-setting committee cut their 2020 median forecast for interest rates to 1.6% from a previous estimate of 1.9%, indicating rates will remain on hold next year. Four members of the rate-setting committee see rates moving higher next year.
The interest-rate outlook for both 2021 and 2022 was lowered to 1.9% and 2.1% from 2.1% and 2.4% respectively.
The longer-run interest rate was unchanged from the September forecast at 2.5%.
The central bank maintained its outlook on U.S. economic growth, forecasting growth of 2.2% in 2019 and 2.0% in 2020. Growth for 2021 and 2021 was also left unchanged at 1.9% and 1.8% respectively, the Fed's Summary of Economic Projections showed.
The Federal Reserve operates under a dual mandate to achieve maximum employment and ensure the pace of inflation remains contained.
Its latest forecasts continued to point to a tight labor market, with the pace of inflation expected to improve next year, close to the Fed's 2% target.
The Fed trimmed its 2019 forecast for the unemployment rate to 3.6% from 3.5% while inflation is expected to remain at 1.5% but rise close to the Fed's current 2% target next year. The Fed sees inflation reaching 2% in 2021 and 2022.
The most recent reading of the core PCE index, the Fed's preferred measure of inflation, came in at 1.6%. The unemployment rate is at 3.5%, the lowest level in 50 years.
Fed chairman Jerome Powell singled out inflation as the key driver of future monetary policy. "In order to move rates up, I would want to see inflation that's persistent and that's significant," Powell said.
Original Article