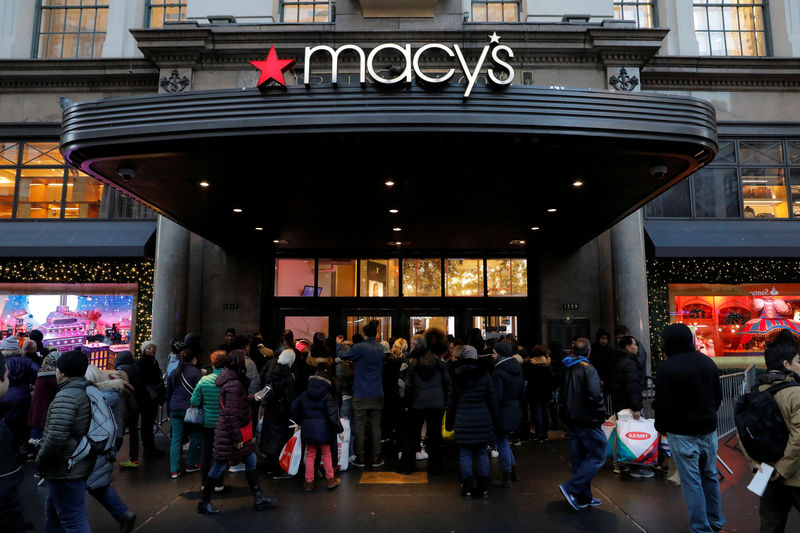 © Reuters.
Investing.com - Stocks in focus in premarket trading on Thursday:
• Macy's (NYSE:M) fell 4% in premarket trade by 8:20 AM ET (13:20 GMT) after the company cut its annual profit forecast for the second this year and posted a bigger-than-expected fall in comparable store sales.
• TD Ameritrade (NASDAQ:AMTD) surged 24.5% after reports that Charles Schwab (NYSE:SCHW) is in talks to buy its smaller rival, according to CNBC.
• Tesla (NASDAQ:TSLA) inched up 1.3% ahead of the auto-maker's long-awaited electric pickup truck reveal this evening in Los Angeles.
• Tiffany & Co (NYSE:TIF) gained 3.3% after reports that LVMH had raised its offer for the company to $130 per share.
• Apple (NASDAQ:AAPL) rose 0.8% after U.S. President Donald Trump indicated on Wednesday that he is considering exempting Apple from an increase in tariffs on Chinese goods scheduled for Dec. 15.
• Fiat Chrysler (NYSE:FCAU) shares gained 1.5% on news that the company's planned merger with Peugeot owner PSA Group will not be impacted by a lawsuit filed Wednesday against FCA by General Motors (NYSE:GM). The lawsuit alleges that FCA had bribed United Auto Workers union officials over a number of years, costing GM billions of dollars.
Original Article