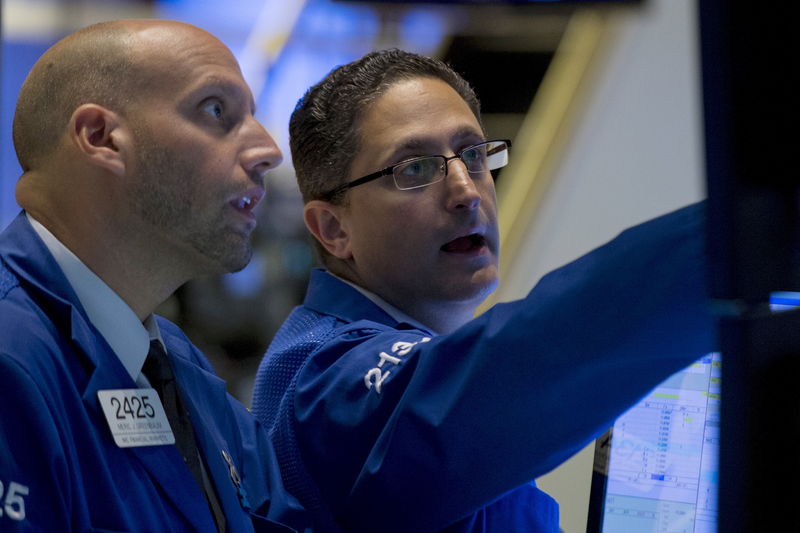 © Reuters.
Investing.com – Stocks fell back on Wednesday as multiple news reports suggested a U.S.-China trade deal won't get signed this year.
Reports that the talks were struggling or stalled altogether have been coming for the last few days and a Wall Street Journal report on the subject late Tuesday finally caused investors and computers to react.
At the worst of the selling, the Dow Jones Industrial Average was down nearly 260 points, or 0.9%. But assurances from the White House and President Donald Trump that the U.S. and China were still talking cut the loss by more than half.
The Dow closed down 0.4%, or 113 points. The S&P 500 fell 0.38%. The NASDAQ Composite dropped 0.51% and the Nasdaq 100, dominated by big tech stocks, slumped 0.66%.
Apple (NASDAQ:AAPL) fell 1.12% and subtracted 12.6 points from the Nasdaq 100 index and 22 points from the Dow. Only Home Depot (NYSE:HD), down 2.2%, had a bigger negative impact on the Dow.
At the same time, crude oil prices rallied as much as 3% after a weekly report showed U.S. oil inventories rising by a smaller amount than expected. The effect was to boost energy shares like Chevron (NYSE:CVX) and Exxon Mobil (NYSE:XOM). and slam airline stocks. American Airlines Group (NASDAQ:AAL) was the biggest percentage loser among Nasdaq 100 stocks.
The Dow suffered its second 100-point loss in two days, the first time that's happened since early October.
Interest rates moved lower on the selling. The United States 10-Year Treasury yield fell to 1.736% from 1.41% on Tuesday. Gold , however, was little changed.
The market has set record closing and intraday highs multiple times in the last week and into Monday, largely on the hopes a Phase 1 trade deal between the U.S. and China was about to happen. In the process, the major indexes and key stocks like Apple probably rose too fast and became vulnerable to selling if there was any bad news.
Original Article