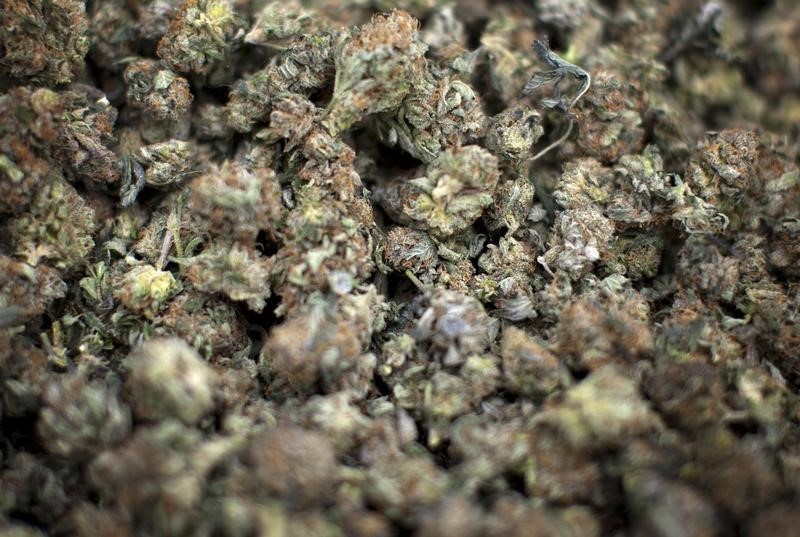 © Reuters.
Investing.com – Canopy Growth has plunged in recent months to levels that finally make it worth buying, Bank of America said on Wednesday, sending shares of the Canadian cannabis producer sharply higher.
Bank of America upgraded Canopy Growth (TSX:WEED) to buy from neutral. Shares sending its shares more than 19% higher in trading in Canada and in the United States. (It trades on the New York Stock Exchange under the ticker CGC.)
It was a little over two months ago that Bank of America found itself on the other side of the fence, downgrading its outlook on the cannabis producer over worries that its valuation was frothy at a time when cannabis orders from some Canadian provinces were slowing.
The shares slumped from a high of $70.98 to as low as $18.23.
Much of the slowing orders were blamed on a lack of retail stores that had caused a glut in inventories. But that has since changed: Channel inventory is getting leaner and margins are showing signs of growth, according to BofA.
Importantly, Canopy has undertaken measures to improve efficiencies that may for the first time in its history as a public company not only make its valuation reasonable but set it on a path to beat or at least meet the Street estimates, the bank added.
The bullish outlook on the cannabis producer comes in the wake of its second quarter, released last week, that missed analysts' estimates on both the top and bottom lines.
The company blamed the weakness on several factors, including reduced cannabis purchases and fewer-than-expected retail store openings. But tempered fears, characterizing the collective problems as a "short-term headwind."
Still, the vote of confidence from Bank of America (NYSE:BAC) triggered a wave of buying across cannabis stocks, with Tilray (NASDAQ:TLRY), Altria (NYSE:MO) and Cronos (NASDAQ:CRON) sharply higher.
Original Article