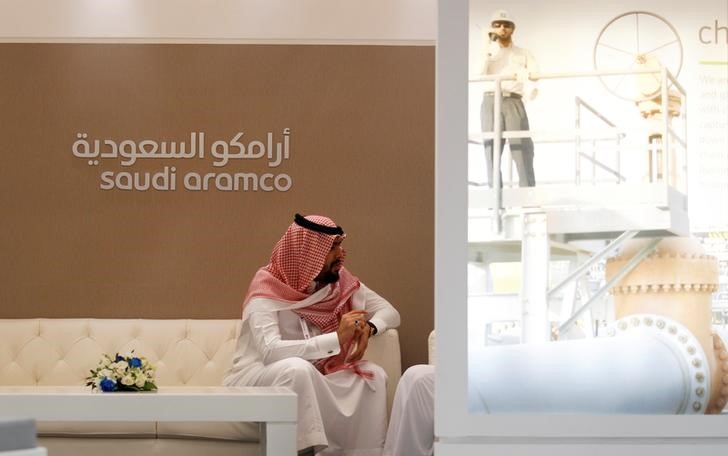 © Reuters. Saudi Central Bank Watches Banks for Excessive Lending in Rush for Aramco IPO
(Bloomberg) -- Saudi Arabia is closely monitoring how much banks are lending to local investors rushing to buy shares in Aramco and what impact the mammoth offering will have on the kingdom's financial sector.
The Saudi Arabian Monetary Authority wants daily updates on how much credit banks are providing after it eased lending limits for buyers, according to people with knowledge of the matter. The regulator is warning banks not to breach any prudential limits after institutions were permitted to lend as much as double every riyal buyers put toward Aramco shares -- from the usual limit of 1 to 1, one of the people said, asking not to be identified because the matter is private.
Officials are concerned that leverage dedicated to the Aramco IPO could potentially deprive the private sector of credit, the people said. They're also concerned what will happen if Aramco's share price slumps after listing, they said. SAMA didn't immediately respond to requests for comment.
Cashing In
Saudi banks are seeking to cash in on Aramco's IPO after years of falling loan growth and a decline in the pace of economic expansion. Lenders will gain from revenue generated from margin loans and brokerage. But any windfall will also come with risks -- any jump in lending could be brief -- as investors receive only a portion of the shares they bid for -- and borrowers are at risk of defaulting if the deal turns sour.
SAMA met local banks in October to ensure that they would be able to maintain enough liquidity while still ensuring enough loans were available to support investors in the IPO.
Bankers on the deal are seeing sufficient early demand to pull off the IPO just three days after launching the deal, Bloomberg News has reported.
Saudi authorities have been pulling several levers to try and make the deal a success. As well as easing lending, they've also pressuring the kingdom's richest families to invest. The kingdom has been negotiating commitments from the billionaire Olayan family, who own a major stake in Credit Suisse (SIX:CSGN) Group AG, and Saudi Prince Alwaleed Bin Talal, Bloomberg News reported earlier this month.
Original Article