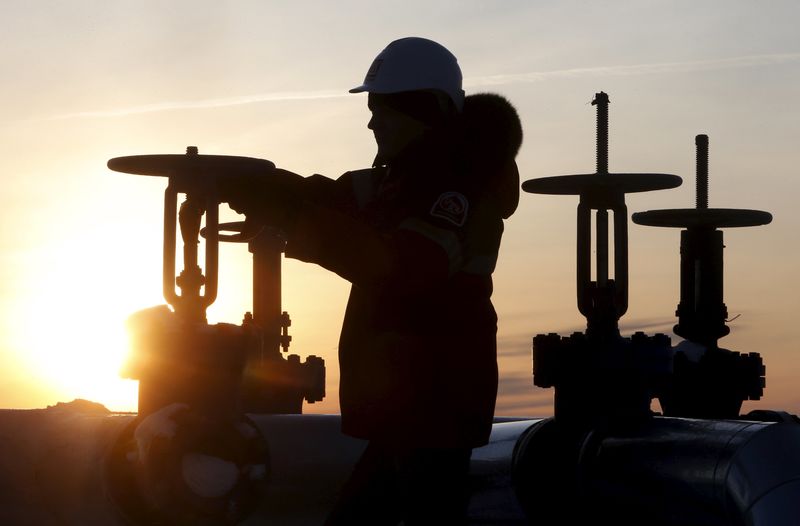 © Reuters.
Investing.com - OIl bulls' hopes to keep crude prices positive until next week's OPEC meeting are being helped unexpectedly by the International Energy Agency's hopes that the cartel would make the "right decision" on output amid growing supplies.
U.S. West Texas Intermediate and U.K. Brent crude futures rose for a second-straight day after the head of the Paris-based IEA, which typically tries to achieve lower oil prices for consumers with soundbites that highlight oversupply, urged OPEC to consider the "very fragile" market for crude at the cartel's Dec. 5-6 meeting.
NYMEX-traded WTI settled up 40 cents, or 0.7%, to $58.41 per barrel, extending Monday's modest 24-cent climb.
ICE-traded Brent, the global benchmark for crude, closed the New York trading session up 62 cents, or 1%, at $64.27, after the previous session's 26-cent gain.
An anonymous source at OPEC told Reuters last week the cartel and its allies, including Russia, are likely to extend until June current production cuts of 1.2 million barrels per day under their OPEC+ cooperation. There's speculation, of course, that the group will do more by deepening cuts beyond 1.2 million bpd when it meets next week, although there's little consensus for now on such thinking.
IEA chief Fatih Birol altered some of those dynamics when he told Reuters on the sidelines of an energy conference in Oslo on Tuesday that it was up to OPEC+ members to figure out the exact production levels needed of them, although they should be aware of fragile market conditions.
Birol also cautioned that a wall of new oil supply was building amid the soft global economy.
"It is up to OPEC countries to decide, but what I see is that the pressure is strong on the OPEC plus Russia, as a result of the strong growth coming from the non-OPEC countries – the U.S., Brazil, Norway, Guyana and others," Birol said.
"There will be lots of oil in the markets. I hope they will make the right decision for themselves and for the global economy, which is still very fragile."
Oil bulls pounced on Birol's remarks, with Phil Flynn, energy analyst at Chicago's Price Futures Group, remarking on the irony of such a statement from the IEA, which is often careful not to say things that will allow oil prices to spike, against its own fundamental view of the market.
"It sounds like the head of the IEA, that normally is in favor of consuming nations, is calling on OPEC to cut production," Flynn said. "Maybe it is because some consuming nations are now producing more, like the U.S.. Or maybe it is because the IEA wants to help stoke anemic inflation."
Oil prices also rose on speculation that the U.S. government might announce a drop in crude stockpiles for last week, in data due on Wednesday.
The American Petroleum Institute (API) will issue at 4:30 PM a snapshot of what the Energy Information Administration (EIA) will likely report as official petroleum supply-demand balances for last week. Analysts surveyed by Investing.com think crude stockpiles may have fallen by as much as 418,000 barrels for the week ended Nov. 22.
If true, it would be the first crude stockpile drop in five weeks.
In the previous week to Nov. 15, the EIA reported a crude inventory rise of 1.4 million barrels.
Original Article