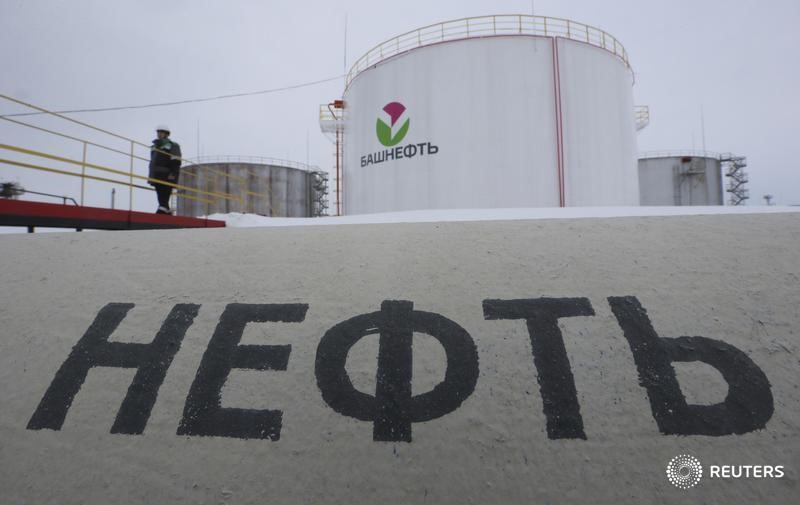 © Reuters.
Investing.com -- Crude oil prices edged lower on Friday in quiet trading, amid signs of continuing quota-busting by Russia ahead of next week's 'OPEC+' meeting to review the cartel's existing deal on output restraint.
By 8:15 AM ET (1315 GMT), U.S. crude futures were down 0.1% at $58.03 a barrel, on course for a flat week. International benchmark blend Brent was down 0.6% at $62.93 a barrel.
Interfax reported that Russia's oil output held at around 60,000 barrels a day above the country's agreed ceiling of 11.18 million barrels a day in November, extending a run of above-ceiling production that will raise eyebrows when OPEC and its allies meet next week in Vienna.
The group will have to decide whether or not to deepen their current production cuts to keep the market balanced in the face of what is expected to be another year of slowing demand growth. Reports have so far suggested that Saudi Arabia, the de facto leader of the group, will settle for extending the current cuts beyond their scheduled end date of March in return for greater compliance by countries such as Nigeria, Iraq and Russia.
Russia's energy minister Alexander Novak suggested earlier in the week that Russia's ceiling could be adjusted to exclude condensate, which would have the effect of bringing it into line with its obligations without Russia taking any real action. Russia's condensate output is certain to increase next year as new gas fields come online, Novak said, adding that it would not hit world markets.
Extracting concessions from Iraq may also prove difficult, after the country's Prime Minister submitted his resignation on Friday under pressure from clerics and lawmakers angry at the army's continued killing of protesters over the last 24 hours. Another 45 people were shot dead by security forces over the last 24 hours, primarily in the south of the country where the country's oil export facilities are located.
On Thursday, protesters had stomed and torched an Iranian consulate in protest against political interference by its bigger Shia neighbor.
Original Article