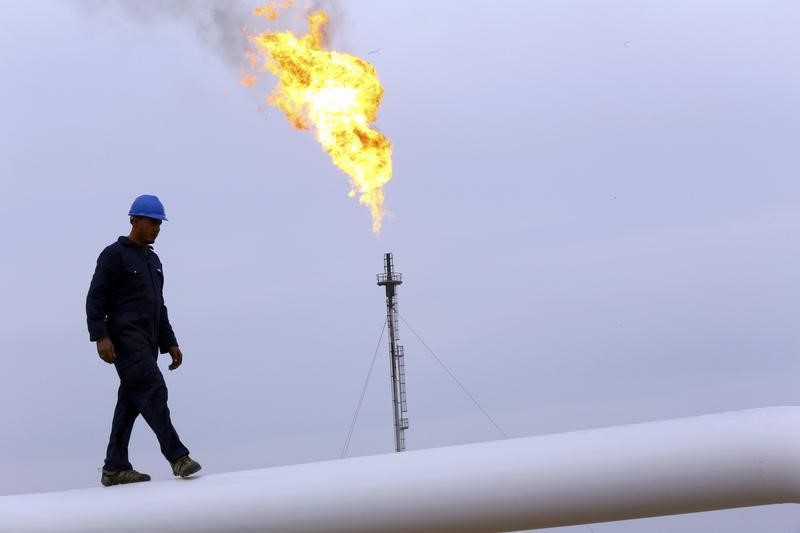 © Reuters.
Investing.com - Black Friday seems to have taken on a different meaning for oil bulls.
Crude prices plunged 5% on the ritualistic shopping day after Thanksgiving as Russia sent out mixed signals on its commitment to extend production cuts and a U.S.-China deal looked more complicated after President Donald Trump's signing of two bills aimed at supporting Hong Kong protests against Beijing.
U.S. West Texas Intermediate and U.K. Brent crude fell unceremoniously from recent two-month highs as thinner holiday-like trading volumes exaggerated the selloff, creating a perfect storm for those long oil.
NYMEX-traded WTI settled down $2.94, or 5.1%, at $55.17 per barrel, well below the two-month high of $58.74 on Nov. 22.
ICE-traded Brent, the global benchmark for crude, slumped $2.55, or 4.%, to $60.72, after a two-month high of $64.60 on Wednesday.
For the week, WTI was down 4.1% while Brent fell 4.2%. For the month, the U.S. crude benchmark rose 1.8% versus the near-1% gain for its U.K. peer.
Friday's slide in oil came after Russian Energy Minister Alexander Novak said on Friday he would prefer if OPEC and its non-OPEC allies, banded under a partnership called OPEC+, took a decision closer to April on whether to extend their oil output deal, the TASS news agency reported.
Novak's comments are likely to be opposed by most of OPEC's members, who are aiming to agree at the cartel's upcoming Dec. 5-6 meeting on the current OPEC+ deal to cut 1.2 million barrels per day.
"OPEC+ is in an unenviable position, struggling to prop up prices against weak demand growth, fragile market sentiment and strong gains in non-OPEC supply," Fitch Solutions said in a commentary on Friday.
"It is highly probable that the group will rollover the deal in its current form until at least the end of 2020, but we see limited scope for a new round of cuts, in light of uneven compliance and diminishing returns."
Adding to the grim outlook for oil, data from the Energy Information Administration on Friday showed the United States exported 89,000 bpd more than it imported in September, solidifying its status as a net exporter of crude and petroleum products under government records that began in 1949.
China, meanwhile, reacted furiously on Thursday to Trump's signing of bills in support of the Hong Kong demonstrators, summoning the U.S. ambassador to protest and warning the move would undermine cooperation with Washington.
Hong Kong, a former British colony that was granted semi-autonomy when China took control in 1997, has been rocked by six months of sometimes violent pro-democracy demonstrations.
Thousands of pro-democracy activists crowded a public square in downtown Hong Kong on Thursday night for a "Thanksgiving Day" rally to thank the United States for passing the laws and vowed to "march on" in their fight.
Trump's approval of the bills was not unexpected. But it did unnerve markets expecting the president to be more pragmatic amid attempts to bring a bitter 16-month trade war to some kind of initial settlement.
Original Article