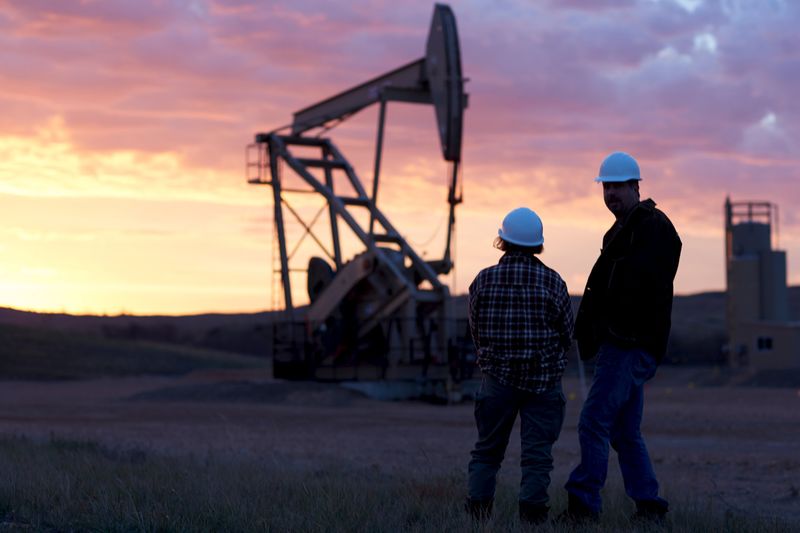 © Reuters.
Investing.com - Oil prices dipped on Wednesday after the U.S. government reported a rise across the board in petroleum product stockpiles. But the downside was limited by President Donald Trump's remarks that the United States was in the "final throes" of a trade deal with China.
NYMEX-traded WTI settled down 30 cents, or 0.5%, at $58.11 per barrel, after rising 1.1% over the past two sessions.
ICE-traded Brent, the global benchmark for crude, closed the New York trading session down 20 cents, or 0.3%, at $63.01. It had climbed 1.4% over the first two days of the week.
U.S.-China trade optimism aside, the drop in crude prices was also mitigated by thinner trading volumes across oil and other commodity markets ahead of Thursday's Thanksgiving holiday.
The U.S. Energy Information Administration said oil inventories rose 1.572 million barrels for the week ended Nov. 22, compared with analysts' expectations for a decline of 418,000, according to forecasts compiled by Investing.com.
"While imports did go up a little, refining is steady at near 90% of capacity," Investing.com analyst Barani Krishnan said. "So, as much as the bulls would like to create a narrative here, they haven't got the numbers yet for it."
"After last week's slight miss on the crude build numbers, this week, the market has completely missed the direction on the crude storage," Krishnan said.
Gasoline inventories jumped by about 5.1 million barrels, versus expectations for a rise of about 1.2 million barrels, the EIA said.
Distillate stockpiles were in line with a rise of 725,000 barrels, compared with forecasts for a rise of 750,000 barrels.
"To me, the more important numbers to watch are the distillate stockpiles, which are up for the first time in 10 weeks, indicating that perhaps the worst of the crunch from IMO 2020 may be ending," Krishnan said.
IMO 2020 is a global maritime fuel emissions standard that will come into force Jan. 1, forcing ships all over to comply with strictly lower sulfur content in their fumes.
U.S. refineries had closed for unusually longer periods this year for maintenance as they tried to conform to the new maritime fuel standards, resulting in sharp drawdowns of distillates as fewer such products were being made weekly.
Despite the negative elements to the market from the EIA data, Krishnan said oil traders appeared to be limiting their bearish bets, fearing a sudden market reversal should the U.S.-China trade deal work out.
"Of course, none of these fundamentals might matter if the market remains obsessed with the trade deal, which Trump says are in their 'final throes', whatever that is supposed to mean," Krishnan said.
Original Article