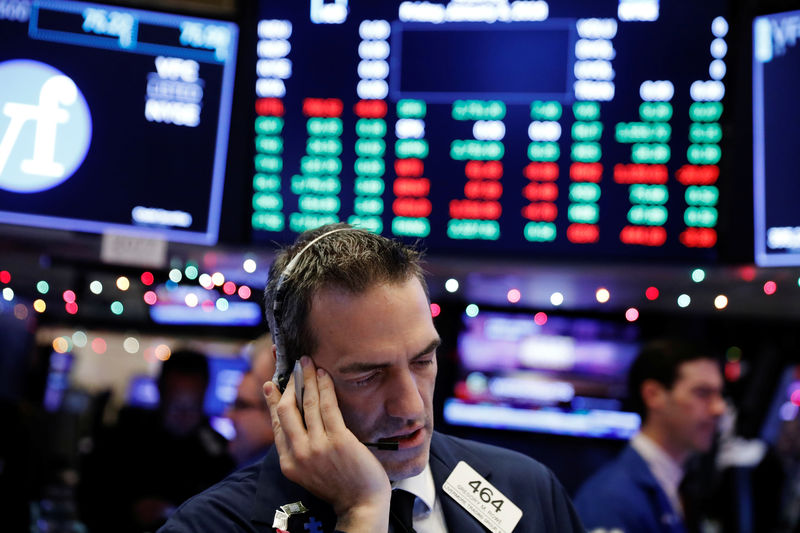 © Reuters.
Investing.com – Stocks were slumping Wednesday afternoon as investors wrapped their arms around the idea a Phase One trade deal between the United States and China is stalled and probably won't get signed this year.
The Dow Jones industrials were off 0.84%, or more than 230 points at 1:22 p..m. ET (18:22 GMT). The S&P 500 was off 0.8%, and the NASDAQ Composite was down 1%. If the Dow's loss holds, it would be the first time since early October the blue-chip index had fallen 100 or more points on successive days.
The selling was prompted by reports from Reuters and The Wall Street Journal that the two sides have reached impasses on two key points: How much China will commit to spending on agricultural products and whether the United States will lift tariffs on U.S. imports. China won't commit to a specific dollar amount. The United States won't lift tariffs without commitments. Tariffs are to be expanded on Dec. 15.
Stocks surged to record levels on repeated assurances from Trump Administration officials that the deal was close to being finalized. Initial plans for a signing ceremony in October, perhaps before Christmas, have been put on hold.
The selling came despite bullish quarterly results from retailers Target (NYSE:TGT) and Lowe's Companies (NYSE:LOW).
Original Article