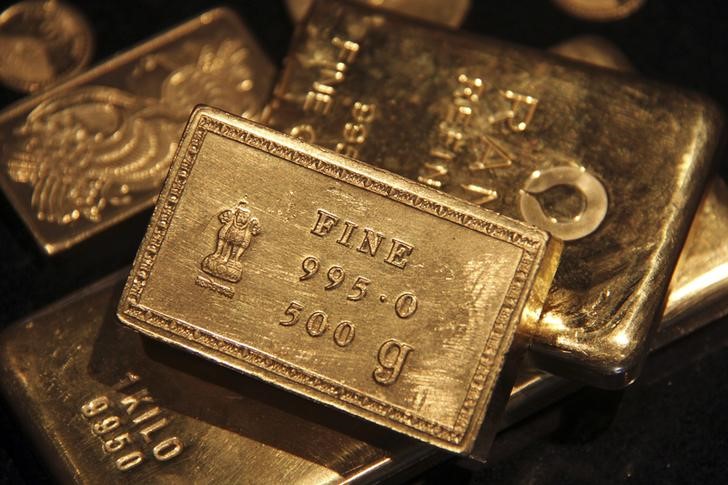 © Reuters.
Investing.com - U.S. President Donald Trump's wavering on China is benefitting gold once again, as his latest support for Hong Kong rights demonstrators threatens to sink a prospective trade deal with Beijing.
Both bullion and gold futures edged higher on Friday, reacting belatedly to Trump signing into law on Wednesday the Hong Kong Human Rights and Democracy Act. The bill would allow the U.S. to impose trade sanctions on China if it breaches its obligation to respect Hong Kong's autonomy. Market reaction to Trump's action was delayed by the U.S. Thanksgiving holiday on Thursday.
Gold futures for February delivery on New York's COMEX was up $9.85, or 0.7%, at $1,470.65 per ounce by 1:05 PM ET (18:05 GMT). The contract plumbed $1,456.60 earlier this week — a bottom since Nov. 8.
Spot gold, which tracks live trades in bullion, rose $6.31, or 0.4%, to $1,464.40.
For the week, February gold futures were flat while bullion rose 0.1%.
China reacted furiously on Thursday to Trump's signing of the pro-Hong Kong U.S. legislation. Beijing summoned the U.S. ambassador to protest and warn that the move would undermine cooperation with Washington.
Hong Kong, a former British colony that was granted semi-autonomy when China took control in 1997, has been rocked by six months of sometimes violent pro-democracy demonstrations.
Thousands of pro-democracy activists crowded a public square in downtown Hong Kong on Thursday night for a "Thanksgiving Day" rally to thank the United States for passing the laws and vowed to "march on" in their fight.
Trump's approval of the bills was not unexpected. But it did unnerve markets expecting the president to be more pragmatic amid attempts to bring a bitter 16-month trade war to some kind of initial settlement.
Gold was also aided by a swing lower in chip stocks on Wall Street on Friday after a report that the United States was looking at measures to stop foreign companies from supplying equipment to key Chinese chip customer Huawei.
The Trump administration was considering measures to stop foreign companies from supplying equipment to Huawei – an important customer for a number of U.S. semiconductor companies – amid concerns the current blacklisting has failed to cut off supplies to the Chinese telecom giant, Reuters reported, citing two sources.
Original Article