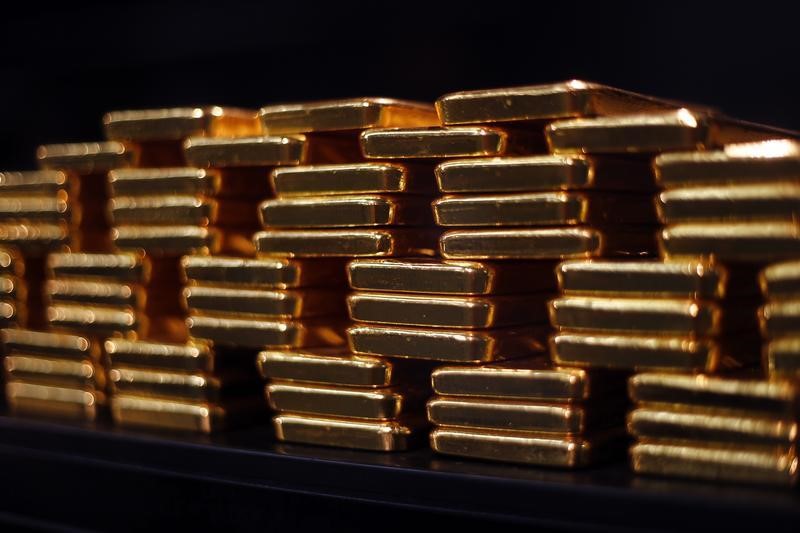 © Reuters.
Investing.com -- Gold prices were on course to end the week at the low end of their recent trading range in becalmed trading, as the Thanksgiving holiday and an undramatic crop of economic data from Europe kept volumes subdued.
By 9:10 AM ET (1410 GMT), gold futures for delivery on the Comex exchange were flat from late Thursday at $1,461.25 a troy ounce. Spot gold was down 0.2% at $1,455.22, having earlier dipped as low at $1,453.13. Both ticked up fractionally after weaker-than-expected third-quarter GDP data from Canada, which showed a sharp slowdown and raised the likelihood of fresh interest rate cuts there.
Prices have come under pressure in recent days from growing confidence in a U.S.-China trade deal and from data showing that the Chinese central bank bought no gold for the first time in 10 months in October. Physical demand from private Chinese buyers has also weakened in recent weeks in response to high prices, according to the World Gold Council.
Earlier, higher-than-expected inflation data from the euro zone and a surprise drop in German jobless, as well as solid growth data from France, had all combined to limit any gains made overnight amid heavy falls in Chinese stock markets.
The figures reduced the already-slim prospects of any further stimulus at the European Central Bank's meeting in December, the first under new President Christine Lagarde.
Both Shanghai and Hang Seng indices fell sharply ahead of what is expected to be another tense weekend of protests in Hong Kong, possibly emboldened by the knowledge of support from the U.S.
President Donald Trump signed into law on Wednesday the Hong Kong Human Rights and Democracy Act, which would allow the U.S. to use trade sanctions against China if it breaches its obligations to respect to Hong Kong's autonomy.
Elsewhere, silver futures were down 0.5% at $16.97 an ounce, while platinum futures were up 0.7% at $901.20 an ounce.
Original Article