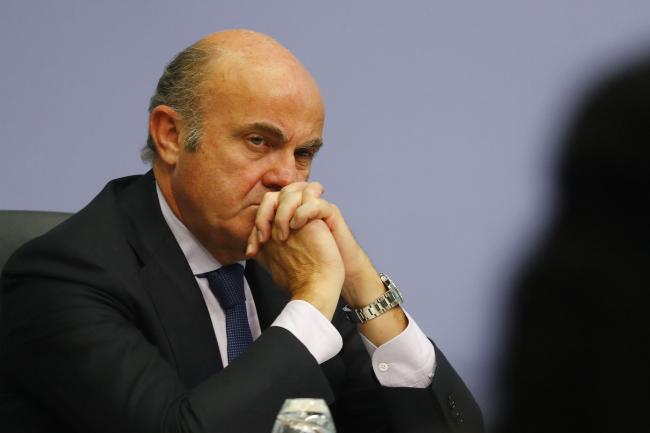 (Bloomberg) -- Explore what's moving the global economy in the new season of the Stephanomics podcast. Subscribe via Apple Podcast, Spotify (NYSE:SPOT) or Pocket Cast.
The European Central Bank doesn't face any immediate risk of hitting the limits of its quantitative-easing program, Vice President Luis de Guindos said, signaling that loose monetary policy is largely on autopilot for a while to come despite mounting negative side effects.
Speaking to Bloomberg Television after the publication of the ECB's Financial Stability Review, Guindos said subzero interest rates could turn out to be a bigger problem for asset managers than banks, and called for new tools for supervisors to address the risks.
"Our APP program is not going to reach the limits in the short term," Guindos said in an interview with Matt Miller on Wednesday. "We have space both in terms of the investment intentions of other investors as well as with respect to the limits and the restrictions that we imposed ourselves."
The semi-annual review contained an unusually frank admission that the past half-decade of negative rates to bolster the euro-area economy is encouraging excessive risk-taking by investment funds and insurers as well as in some real estate markets. That's set to continue as the ECB fights the region's economic slowdown -- it cut rates deeper below zero in September and restarted its program of asset purchases despite speculation that the space for how much it can buy is shrinking.
Total debt holdings may amount to no more than a third of each government's debt, and that cap has already been reached in some countries. The ECB has promised to continue purchases until inflation reaches its target of just under 2%, which its own forecasts don't foresee until at least 2021.
Guindos said that looking at the evolution of wages and other indicators "there is a little bit of inflation in the pipeline, and it will come to the surface over time."
"It's taking longer than in the past, but I suppose that the pass-through from wages to prices will eventually take place, and we will get closer to our definition of price stability," he said.
Guindos expressed hope that the ECB will eventually be able to lift rates back above zero, but said he's not so "pretentious" as to give a more concrete timeline.
"For sure there is a recovery of the economy, and inflation goes up," he said. "For sure we will normalize the situation of interest rates, and monetary policy will be again in normal territory."
In the meantime, though, the ECB will need to deal with the potential side effects of its policy including a more stringent oversight of the asset-management industry, whose heft and impact on the economy has grown over the years. Risky behavior includes rising investment in illiquid assets in search of higher yields.
"Our recommendation is that you should have a toolkit of macroprudential instruments for the asset-management industry," Guindos said. "We have it for the banks -- in the case of the banks the supervision is much more intense than in the case of the asset-management industry -- and we should have it as well, this kind of potential instrument to be used in the case of asset-management industry."
Original Article