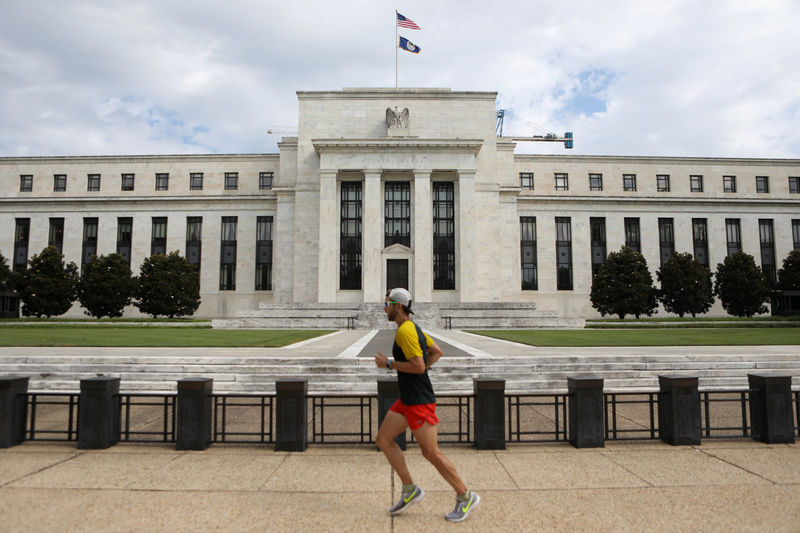 © Reuters.
Investing.com - Here's a preview of the top 3 things that could rock markets tomorrow.
1. Fed's Minutes in Focus
The Federal Reserve on Wednesday at 2 pm ET (19:00 GMT) will release the minutes of its October 29-30 Federal Open Market Committee (FOMC) meeting.
At its October meeting, the FOMC cut interest rates, but expectations for further cuts were reined in after Fed Chairman Jerome Powell suggested the central bank would stand pat on monetary policy for rest of the year. He has repeated the position several times since, even in a meeting with President Donald Trump on Monday.
The policy statement following the October meeting showed both global trade tensions and subpar inflation growth were key concerns among Fed members.
2. Crude Oil Inventories Due
The Energy Information Administration (EIA) petroleum report due Wednesday, will likely prove a welcomed distraction as the uncertainty around US-China trade deal has weighed on oil prices.
The EIA is expected to report a draw in crude stockpiles of 0.732 million barrels for the week ended Nov 10.
Ahead of the EIA report, however, the American Petroleum Institute released data - while not perfectly correlated with the EIA's report often serves as an early indication of weekly petroleum levels -- showed weekly crude stockpiles rose by 6 million barrels last week.
Crude oil for January delivery fell 3.1% to $55.35 a barrel on Tuesday and drove energy stocks lower.
3. Lowe's and Target Earnings Put Retailers on Watch
Lowe's (NYSE:LOW) reports earnings before the bell Wednesday.
The home-improvement retailer's third-quarter earnings comes just a day after the rival Home Depot (NYSE:HD) missed sales estimates and cut its forecasts for the year. That raised concerns somewhat that the pick-up in the housing market may not provide as much a boost to home improvement retailers than previously anticipated.
Lowe's is expected to report earnings of $1.35 a share on revenue of $17.69 billion, up from $1.04 a share in earnings a year ago on revenue of $17.42 billion.
Target (NYSE:TGT), meanwhile, is forecast to deliver third-quarter earnings of $1.19 a share on revenue of $18.44 billion. That would be up from $1.09 a share and revenue of $17.59 billion in the year-ago quarter.
The retailer has enjoyed a better year so far compared to some of its peers. Shares are up about 67% for the year, as efforts to boost in-store sales and ramp-up its digital offerings have boosted growth.
As well as earnings and guidance, investors will likely parse the report and pay close attention to the earnings call for any clues on a potential partnership announcement after Target ended its relationship with Amazon (NASDAQ:AMZN).
Original Article