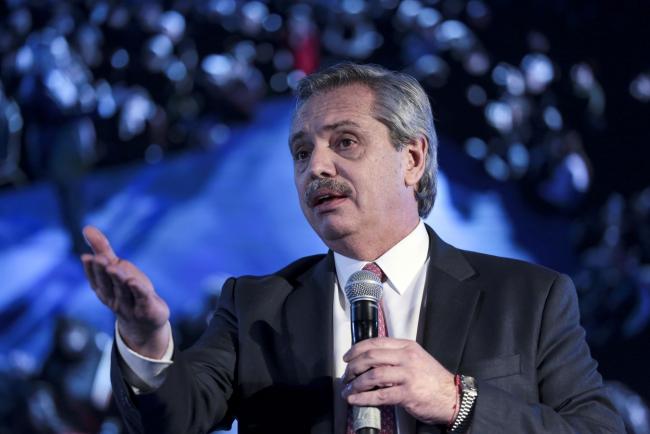 (Bloomberg) -- Explore what's moving the global economy in the new season of the Stephanomics podcast. Subscribe via Apple Podcast, Spotify or Pocket Cast.
Argentine President-elect Alberto Fernandez told International Monetary Fund chief Kristalina Georgieva that he has a plan to grow the economy and tackle the nation's debt as he seeks to renegotiate a record $56 billion credit line with the lender.
"We have developed a sustainable plan that will allow us to grow and comply with our obligations that Argentina has with you and with the rest of the creditors," Fernandez told Georgieva in their first publicly known phone call, according to his transition team's press statement on Tuesday night. "We're taking on a commitment that we can meet."
Although Fernandez, who takes office Dec. 10, said he well understood the "relevance" of fiscal viability, he reiterated his campaign pledge that any new agreement between Argentina and the IMF won't include austerity.
"We can't do more spending cuts because the situation is enormously complex," Fernandez said.
The IMF granted Argentina a record line last year after President Mauricio Macri sought aid following a rout of the peso and loss of investor confidence. To meet targets in the deal and receive IMF cash, Macri had to accelerate painful spending cuts. But IMF aid didn't get the economy back on its feet: Inflation is over 50%, activity is heading toward a third year of contraction and poverty has gone up.
The gap in yield between Argentine bonds and U.S. Treasury notes, known as sovereign risk, narrowed Wednesday morning by more than 80 basis points following the call. International, dollar-denominated notes due in 2028 advanced to 39.7 cents on the dollar, the highest in three weeks.
While the call is a step in the right direction, investors are still anxious to know more details about Fernandez's economic plans including who will be in his cabinet, said Siobhan Morden, head of Latin America fixed income strategy at Amherst Pierpont Securities.
"We still don't have an economic transition team," Morden added.
'Work Together'
Argentina's economic pain since the agreement began in June 2018 has evoked the unpleasant memory of the nation's last major economic collapse in 2001, when it defaulted on $95 billion in debt after another IMF agreement fell apart. Fernandez defeated Macri in October, largely due to the economy's sharp downturn.
Georgieva told Bloomberg in an interview earlier Tuesday that "the government has to figure out a way to live within budgetary constraints," and "they will have to bring debt to a sustainable level so they can return to markets." In a statement Tuesday evening, Georgieva called the phone call "constructive."
Read more: Why Argentina Keeps Finding Itself in a Debt Crisis
"I stressed the IMF's readiness to engage with his government and work towards paving the way for sustained growth and poverty reduction," Georgieva said in an IMF statement. "We agreed to pursue an open dialogue for the benefit of the Argentinian people."
According to Fernandez's statement, Georgieva said on the call she was "very anxious" to know more details about Fernandez's economic plan and moved by his priorities to fight poverty and hunger. She said she's very interested in learning more about Fernandez's pending social pact to lower inflation, the transition team said.
"I'm sure that we will work together," Georgieva told Fernandez, according to his statement.
(Updates with market reaction in 6th paragraph; analyst comment in 7th)
Original Article